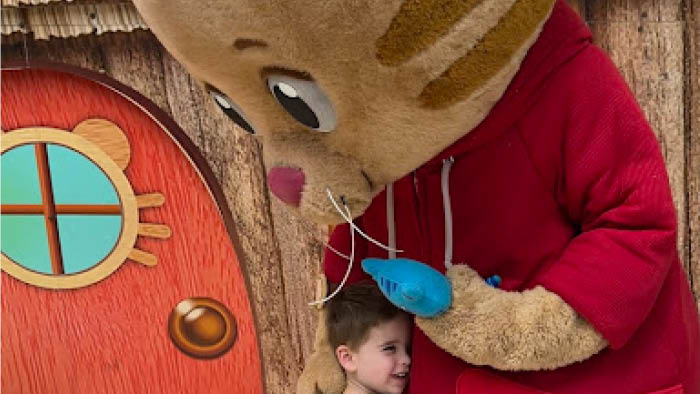 My 3-year-old son Benjamin's favorite book series and TV show is Daniel Tiger's Neighborhood. One of his biggest highlights of this summer was our visit to our family in Pennsylvania where we actually got to meet Daniel Tiger in person at Idlewild Park.  
Fred Rogers, a man who inspired me and so many others, was an ordained Christian minister and, like me, a native of Pittsburgh, PA.  
The Daniel Tiger TV show is a reboot of the classic TV show, Mr. Rogers' Neighborhood, and shares many of the same characters. Each story has a theme with a lesson featuring a catchy jingle that culminates in a full length song. We often refer to some of the jingles in our home, which offer valuable life lessons. One of my favorite episodes from this TV show is  "King Daniel for the Day."

King for a day 
In the story Daniel Tiger asks King Friday what it is like being king. King Friday, knowing experience to be the best teacher, allows Daniel to be king for the day and assigns him two kingly duties: to acquire both a tasty dessert and a loud musical instrument and bring them to the castle. Then King Friday tells him that the most important thing about being a king is to be kind.  
The story goes on and Daniel gets a tasty treat from the bakery, but he sees his friend O the Owl accidentally drop his special dessert onto the ground. Remembering King Friday's words (in the form of a catchy jingle) "You can choose to be kind," Daniel offers his own dessert to his friend.  
Then Daniel acquires loud cymbals from the music shop, but on his way back to the castle, he comes upon his friend Miss Elaina, who has just dropped her doll in the mud. Once again, Daniel remembers King Friday's words and gives the cymbals to his friend, who receives them gladly. 
It's the moment at the end that really gets me.  
As Daniel is on his way back to the castle, he is discouraged because he doesn't have any of the things King Friday asked him to bring. He stands before the king at the end of the day and is asked to give an account, and he says, "I don't have anything. I guess I didn't do a good job as king."
King Friday responds, "That's not what I heard. I heard you found lots of ways to help others and be kind. You have done your job as king very well." 
Daniel succeeded by heeding the voice of the king, and prioritizing kindness over his particular objectives and deliverables. And as a result, this moment that looked like failure was actually success.  
Heeding the Voice of the King
This simple story reminds me that we're all kings and queens put on this earth to exercise dominion to some degree or another (Genesis 1:26). We have all kinds of concerns each day. But if we just do one thing, everything else falls into place. If we listen to the voice of the King of All Creation, and offer the love and care for others that is appropriate for fellow creations of God, regardless of our projects and timelines.
This story is moving to me because my work is never perfect, and I am often discouraged about my failures, both in my practical details of life and in my work. But, unlike Daniel Tiger, I often fail to prioritize kindness in those moments.  
I long to heed the voice of my King, that at the end of a long day, I might hear from him, that I, too, have done my job of ruling very well.  
So like Daniel Tiger, I want to keep the mindset of the King ever before me.   
Isaiah sums it up beautifully. 
If you pour yourself out for the hungry
    and satisfy the desire of the afflicted,
then shall your light rise in the darkness
    and your gloom be as the noonday.
Isaiah 58:11 ESV
Isaiah's hopeful word is that even when it looks like we have failed, if we entrust ourselves to God the true king by expending ourselves in love for others, choosing to be kind, we will not be alone. He will be there.