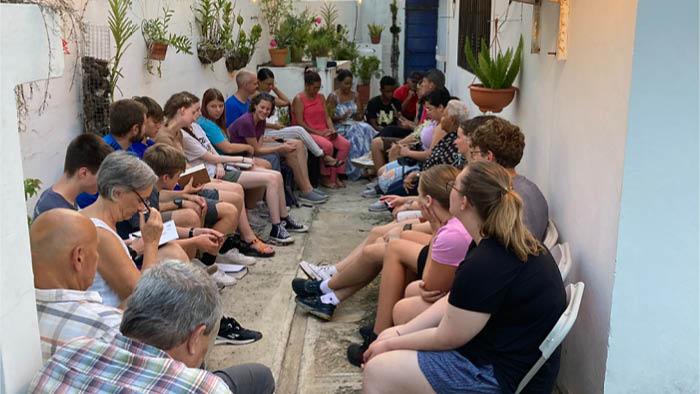 I had the privilege of joining our high schoolers on the trip to the Dominican Republic this summer. What an incredible experience! I had so many takeaways from my time, but one thing I experienced so clearly is the beauty of the Church. The global church is something I haven't had much opportunity to see in such a tangible way before. Situated right here in the middle of the country, it's so easy to equate the-big-C-church with the American church and forget the diverse expression of the Body of Christ. I am so thankful for the chance to expand my understanding more fully, to glimpse the beauty of our worldwide church family. 
We began our week visiting a house church in Santo Domingo. Anna opened her home to us, and we more than doubled the size of their church that evening. The folding chairs multiplied like loaves and fishes as we all squeezed into her patio along with Napoleon and his family, Anna's sister, Abuela, Gordy, and Bear. Anna led the majority of the service in English, and Nicole translated for us during discussion time so we could all understand one another. While the church service was so foreign in some ways, it was also so familiar. Communion bookended our time together; we took the bread at the beginning and closed the service with the wine. We sang familiar worship songs, and in between shared a meal. These "strangers" are our family. We have all been adopted by the same Father. These people we had not ever met are our brothers and sisters, cousins, aunts and uncles, grandmothers. We share the same spirit and we could feel it. What a beautiful foretaste of heaven! 
Every day our group headed to a university in Santo Domingo to attend English immersion classes and help the students work on their pronunciation and grammar. Every day we packed our lunches and got there an hour before class to have conversations with the students. Tons of students came to talk with us. It was such a joy to make new Dominican friends, hear some of their stories, share some of ours, and the reason for our hope in Christ. 
One particular conversation really stuck with me. A woman came and sat on a bench next to me and we started talking. It quickly became apparent that I knew more Spanish than she knew English, and I do not speak much Spanish! But somehow we were able to semi-understand each other. She said that her 18-year-old daughter was a student at the university and each day this mother would walk her daughter to school. Somehow our "conversation" turned to faith and she said something along the lines of "El Dios es primero." Forgive me Spanish speakers for my limited vocabulary and faulty memory, but it roughly means "God is first." I agreed with her and we spoke of our love for God. I don't even know her name but I just teared up and said "hermanas," sisters. This woman, who I had never met and will most likely never meet again on this side of heaven, is my sister. Our day to day lives are so different, we could barely understand each other, and she is my sister. Someday we will stand before the throne together and worship.
Later on in the week we went out to dinner and I was not feeling well. Anna from the house church and her family joined us. When Anna realized how I felt, she offered to take me back to her house and care for me until I felt better. And she meant it! She was willing to take  a basically total stranger home, a sick stranger at that, and care for me. Because while we are strangers, we are also family! I didn't take her up on her kind offer, and was feeling better the next day.
This experience with the Church got me thinking about my local church family and what it means to be family to those I see Sunday after Sunday. Sometimes it takes a shift in perspective to see what is right in front of you or be reminded of what is right in front of you. The people sitting in the worship center with me on a Sunday morning are my sisters and my brothers. In a very real sense. 
The New Testament is full of references to believers as family, and when those words were penned, your survival depended on your extended family. Everyone had to pitch in and work for the family to survive. Which really made me think about how I am caring for the people in my church. What have I sacrificed for their good? Am I willing to take a sick sister into my home and care for them? 
And, how are we all using our gifts and talents for the benefit and building up of the church? How are we meeting physical needs, spiritual, emotional? Letting others know of our needs so that they can be met? God has created each one of us uniquely and together we are the body of Christ. 
The big C church and the little C church needs all of us. It's not meant to be a place where we spend an hour on Sunday and then go about our business. It is a family and we need each other.