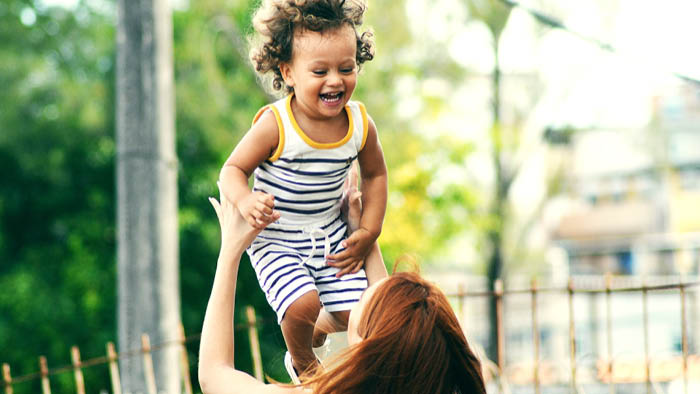 When my kids were little, one of the best parts of my life was when I'd walk in the door at the end of a long day. They'd run to me, squeeze my legs, squeal with delight, beg me for piggyback rides, the "dragon game," or other ridiculous forms of roughhouse. Their faces could practically light up the entire room at the very sight of me. I was a hero, a celebrity, the most loved human on the planet and the source of one of their greatest delights. It felt pretty good. 
I have teenagers now. Needless to say, I'm not even sure they notice when I get home (or that I ever left). While I choose to believe they're still glad to see me (after all, according to Hebrews 11, faith is the assurance of things hoped for, the conviction of things not seen…), I do miss those little faces lighting up like that at my very presence. You know the feeling, right?
A face that is glad to see you
Does anything feel better than seeing another human light up when they see you? You show up at a friend's house that you haven't seen in years. You return home from a long and tiring business trip and your spouse greets you at the door. You arrive home after your first semester in college. Your grandkids finally pull up after a long road trip. Even as I write this, I can literally feel my face lighting up just at the very thought of these situations.
We also feel this in the small and subtle things. When you walk into church and you can just tell the people you see are glad to see you. Their faces light up, which makes your face light up, which makes their faces light up even more, which makes your face…. It feels good, doesn't it?
We now know that there is brain science to back this up. Jim Wilder and Michel Hendricks, in their brilliant little book, The Other Half of Church: Christian Community, Brain Science, and Overcoming Spiritual Stagnation, write:
Our brains desire joy more than any other thing. As we go through our day, our right brains are scanning our surroundings, looking for people who are happy to be with us.
God designed facial recognition circuitry into our brains and linked it to our joy center. My wife's face lights up when she sees me, and this initiates a joyful chain reaction in my brain that I can feel in my body. Brain science reveals that this joy sensation is crucial for emotional and relational development. Our brain looks specifically to the face of another person to find joy, and this fills up our emotional gas tank. The face is key.
They summarize joy in three points. 1) Joy is primarily transmitted through the face (especially the eyes) and secondarily through voice. 2) Joy is relational. It is what we feel when we are with someone who is happy to be with us. Joy does not exist outside of relationship. 3) Joy is important to God and to us.
Of course, I didn't need to quote these experts for us to know this to be true, nor do we need science's confirmation for the things we already believe so deeply. We feel this deep in our bones! We know, even in our own bodies, that this is true.
It shouldn't surprise us then that God has also known this to be true, for this is how he made us. Long before any of these scientific studies were even imagined, God imagined humans, and he made us to light up at the faces of one another. He made us for joy—joy with him and joy with each other. 
"The Lord make his face shine on you"
It even comes out in the "original" benediction or blessing in the Bible. It's the oldest we have and it has long been my personal favorite of all the benedictions we give at church. In seminary, our pastor used to sing it over the congregation at the end of the service. We say it over every child in our dedication services, I try to work it into every one of my weddings, and I love using it on Christmas Eve and the start of every new year. It's also become one of my favorite songs we sing from Elevation Worship, The Blessing.
Thousands of years before we knew anything about brain science or interpersonal neurobiology, God knew, and our brilliant Creator God gave us this benediction. I memorized it first in the NIV, Numbers 6:22-26: 
 The Lord said to Moses, "Tell Aaron and his sons, 'This is how you are to bless the Israelites. Say to them:
 "The Lord bless you
    and keep you;
 the Lord make his face shine on you
    and be gracious to you;
 the Lord turn his face toward you
    and give you peace."
The original blessing, the blessing God commanded, perhaps the highest blessing we can receive, is that God's face would light up when he sees us. That he would continually turn his face toward us. For this is the ultimate blessing, the ultimate protection, the ultimate act of grace, and the greatest source of peace. If you want real joy, here is where it is found—seeing God's face light up when you walk in the room. Knowing that God is glad to be with you.
Reflecting on this passage, Wilder and Hendricks write: 
God designed our brains for joy, and He wants us to live in the glow of His delight. This blessing expresses a joy that can be paraphrased, 'May you feel the joy of God's face shining on you because He is happy to be with you.'
How can God possibly be glad to see me?
However, if I'm honest, I often wonder, does God's face really light up when he sees me? He knows me. All of me. He knows the ways I tried to run from him in high school. He knows the mistakes I made in college. He knows my failures as a husband, as a father, as a son, as a brother, as a friend, as a pastor, as a colleague, as a boss, as an employee, as a neighbor, as a citizen, as a human. So many mistakes, so much sin. Every one of my faults is in his face, even the failures I've been unable to admit to myself. He sees.
You can't hide anything from God's face. And I imagine that disappointed look, like the one your mom or dad used to make. Or worse, I imagine him turning away from me, and walking out on me. If YOU really knew me, dear reader, YOU would turn your face from me and walk out on me. Each of us has felt this happen way too many times. Nothing destroys our joy quite like this.
And yet….
The good news of what Jesus has done for us means our God will never do that to any of his children. No matter what. Ever. You see, Jesus already died the death we deserve, and when he was forsaken on the cross, the Father did turn his face away. That is what we deserve, but Jesus experienced that for us, so that we never will.
Jesus also lived the life we could never live—perfect, holy, righteous, just. He took our shame and gave us his goodness, so that when the Father looks at us, he sees all the good that Jesus is. All of his beauty and righteousness and love. We are given credit for that.
This means, if you are one of God's children through faith in Jesus, his face is always toward you. It's always shining when he sees you. For our God is always glad to see you. Do you believe that?
Like lovers who have been separated for months. Like a parent who hasn't seen their child for a whole semester. Like your grandkids when they finally show up for a long awaited visit. Like your closest college friends at an unexpected reunion. That's how God feels EVERYTIME he sees you. And he always sees you! His face is always toward you. Can you see his eyes lighting up?
Now I realize this is hard to believe. The gospel of Jesus usually is hard to believe. So how do we actually experience this? I want to feel this—how can we? Let me quickly and inadequately suggest two things.
Turn your face toward him
First, if you want to experience the joy of God's face toward you, you have to turn your face toward him. It's mutual. He also wants to see your face light up when you see him! Like any relationship, the joy is best experienced by prioritizing time for that person, and mutually enjoying one another.
When you open your Bible, when you carve out time for prayer, when you quiet your life enough to listen for him, when you show up to church each Sunday, when you sing songs of praise to him, when you go on a walk alone in the woods. These are the spaces we are most likely and most often to experience his face and his joy, and he experiences it from us, too. If we want joy, we have to make these things a priority. Like the old hymn says:
Turn your eyes upon Jesus
Look full in his wonderful face
And the things of earth will grow strangely dim
In the light of his glory and grace
Turn your face toward others
Second, if you want to experience the joy of God's face toward you, you have to turn your face toward others. So often our experience of God's love comes through the love we feel to and from others. When you show up at church or your community group or Bible study, does your face light up from the people you see? As yours lights up, theirs will too, and you'll get a taste of the joy of God's face. If we want joy, we have to make each other a priority.
As we do these things, with faith in Jesus as our deep hope, we'll experience joy, and we will live out the fulfillment of the greatest benediction. 
Let these words again wash over you—not simply as a wish, but as a truth that is fully yours in Jesus Christ. Read them this time from another translation:
"May the Lord bless you and protect you;
 may the Lord make his face shine on you
and be gracious to you;
 may the Lord look with favor on you
and give you peace."'  Numbers 6:22-26 CSB
These words have already come true for all who believe. Amen and Amen!