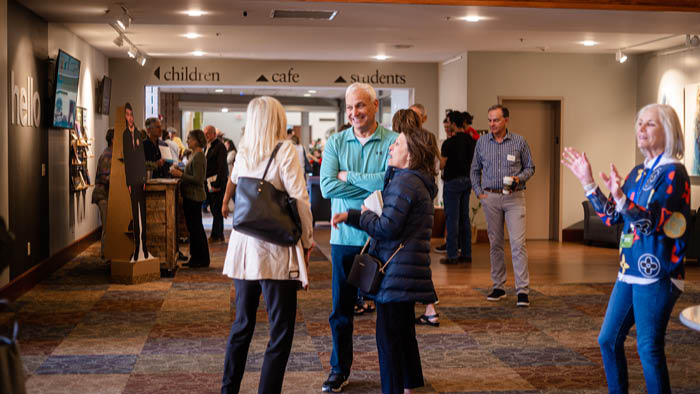 Written by : Debbie Perry
Several years ago, I wrote a blog about the power of surrender I was experiencing through a recent journey with leukemia, followed by our shared experience of quarantine due to the pandemic. As I look back on that time, I remember praying that if the words of my heart could be an encouragement to even one person, then all that I had been through would not be wasted. I believed God intended to make something beautiful from the ashes of my painful journey then, and I believe it still. So at the urging of the Holy Spirit and the encouragement of a close friend, I am again sharing how God is still writing my story in new and unexpected ways. 
I was recently reminded of the importance of community in my life. And more than that, I was reminded that my presence might be a gift to others. I say this not as an arrogant comment, but to encourage the hearts of others. You see, after attending Christ Community in person for 16 years, I have spent over three years watching online. Through my battle with leukemia, stem cell transplant, pandemic quarantine, and now a depressed immune system, I have been so grateful for a church that has made it possible to witness strong biblical teaching of the gospel and beautiful worship online. 
With a weakened immune system, I have been encouraged to avoid large groups of people, and to keep my circles of exposure small. I feel that there is a fine line and a lot of gray area between the wisdom of protecting myself from illness and letting the fear of getting sick keep me at a distance from others. I don't share this to be complacent, I share it with an empathetic heart for others who find themselves in a similar situation. I have been contentedly watching online with 60 or more Leawood campus congregants every Sunday for much longer than I ever expected. Every Sunday I am reminded there are many of us dealing with health issues or other circumstances that keep us worshiping at a distance. And while we may enjoy the convenience of watching in our pajamas and welcoming God into our living rooms on Sunday mornings, we may also experience similar feelings of fear, loneliness, or guilt as we miss worshiping in a community with others. I truly feel as though God has used this time away to draw me closer to him, but recently I have been longing for more.
I recently attended the Ash Wednesday service at the Leawood Campus. I was not planning to attend since I just finished a bout with an upper respiratory virus, but I really wanted to attend since I knew it would be a smaller group than a Sunday service. Once again I felt as though I were in a game of Double Dutch. You may know that playground game, two jump ropes swinging as you wait for a time when you can jump in. But the timing sometimes just seems off so you just wait a little longer until the timing feels more right for you to take the leap. That is how I felt. Should I wait a little longer or jump back in while the group seemed smaller? Is now the right time? Well, as God often does, he made things a little more clear when I woke up that morning. He gently spoke to me through my morning devotional from Genesis. Genesis 2:7 says, "the Lord God formed the man of dust from the ground and breathed into his nostrils the breath of life, and the man became a living creature."  This passage was not new for me, but I saw something new this time. From the wisdom of my devotional writer I was reminded that out of all the ingredients in the world, God chose dust to breathe life into mankind. Dust does not signify an end. It is often what must be present for new to begin. Was God showing me that he intended to use the ashes of Ash Wednesday to breathe life into me? Ashes are like dust, right? I couldn't stop thinking about it and so I decided I wasn't going to question it, God had my attention. I was jumping back in.
In obedience to the guidance of the Holy Spirit, and after many moments of second guessing, I grabbed my mask and arrived in the church lobby to attend a service in person for the first time in three and a half years. I distanced myself as I greeted new and old friends, but it did not take long for me to realize how much I had  missed seeing, and being seen by my church family. It felt good to see the smiles and surprised looks on friends' faces to see me in person. I knew I had missed others, but never thought that maybe I had also been missed by them. 
As I entered the service, I grabbed a chair and sat with only one close friend away from the larger congregation in the back of the room. Looking at the church community that I love in front of me felt more comforting than I ever could have imagined. I was at a distance, but among them. The music began and I could not seem to hold back tears. It was the same music that I experience in my living room on Sunday mornings, but why did it seem so much more powerful in these moments? And then it hit me, I was back in community with others, as God intended. I have underestimated my need for worshiping in a community. We were never intended to do this life on our own, to worship alone. He created us to need each other's presence to grow and thrive. 
It was a powerful night that led to deep reflection in my own heart about what God is up to in my story. He revealed some places that I have forgotten to surrender to him. Places where I am trying to figure out my "new normal" on my own. Places where I was longing, but not listening. I see now that while it has been a necessity to stay at a distance for a season, it is not meant to last forever. While I still need to be wise for my health and may have moments where I am fearful or unsure when to jump in more permanently, I am so grateful God directed me to notice a glimpse of what I have been missing being away from a loving church community. 
I want to offer encouragement for anyone in a similar season of missing a church community in your life; I hope you know that your church community is also missing you. Praying for you. Longing for your return. Whether you are already part of Christ Community or seeking to find a new church home, I hope you know that you will be as much a blessing to us as we might be to you. Whether you are feeling led to jump back in this week or months from now, I pray that God is already revealing big and small ways that he wants to use the dust of your current or previous circumstances to strengthen you, and knit you back into a loving community where others are waiting to welcome you in. I hope we can see each other there soon!