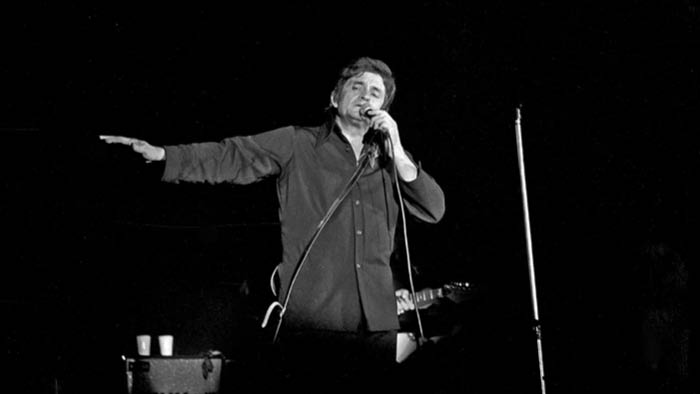 Johnny Cash has been called a lot of things, not least of all, a walking contradiction. On the one hand he sang regularly about Jesus, performed at evangelistic revivals with Bill Graham, and wrote a novel about the Apostle Paul (yes, I've read it). He was a deeply committed Christian, attempting to walk in the light of Jesus. On the other hand, he struggled with drug addiction almost his entire life, as well as some of the other demons common to those who live a life of fame on the road. There was a darkness about him. 
For someone who's greatest hit was about "walking the line," he was never very good at actually walking it. This is one of the things that draws me to him most. 
Johnny Cash was a dark sinner who loved Jesus a whole lot. He knew about personal pain, loss, and deep heartache, yet he never lost hope in a God who loves him and offers forgiveness to him.
I grew up listening to Johnny Cash. My dad had a cassette or two and Johnny would always join us for our roadtrip family vacations. When I was in high school, and Johnny made the most amazing comeback of his career, I quickly became a fan in my own right. (His first album with Rick Rubin, American Recordings, is my favorite.)
Rediscovering the Man In Black
About two years ago I rediscovered the Man in Black. Through a series of difficult circumstances and perhaps my own seasons of a little heartache (and perhaps some darkness, too), I became not just a fan. I've become obsessed. I won't bore you with the details (too late?) but I truly mean what the bumper sticker on my car says: Johnny Cash is a friend of mine.
I've acquired and listened to nearly every song he ever recorded (my playlist is 80 hours long with no tracks repeated), read multiple books (and purchased even more), got sucked into multiple YouTube rabbit trails (interviews, concerts, the Johnny Cash Show), and even made a pilgrimage to some of the most important sights and museums related to his life. 
I've actually started referring to my obsession with Johnny Cash as my midlife crisis. While I do drive my family nuts, it could be worse, right?
But why? Why do I love Johnny so much? That's like asking me to list all the things I love about my kids — where do I even begin? So I'm going to limit myself to three things that I think all of us need a little more of today. As followers of Jesus, there are three things we can learn from and embrace from Johnny's life.
Johnny loved people
First, Johnny loved people — all people and especially those who are easiest to forget. He worked for prison reform, spoke out against abuses toward Native Americans, and understood the plight of the working poor. He knew how to connect with just about anyone. 
The most enjoyable example of this is to listen to three of his most famous concerts, all recorded within a 14-month period: San Quentin Prison (February 24, 1969), Madison Square Garden (December 5, 1969), and President Nixon's White House (April 17, 1970). The selection of music is almost the same at each of them — classic hits, murder ballads, gospel tunes — but the concerts could not be more different. 
He knew his audience and could speak to each of these people as if he truly saw them, understood them, and cared for them. He could encourage a prisoner, navigate the political tensions in New York, and challenge a controversial president. And he could do it all without condemning, alienating, or patronizing. 
Some might say he was just a good performer, maybe even a little bit of a politician himself. I don't think so. I just think people — real people of any kind — actually mattered to him, and we could learn something from his example.
Johnny could embrace tension
Second, and not unrelated, Johnny could embrace tension. While he was considered the Man in Black, he didn't see the world in simple black and white with neat and easy little categories of either/or. Yes, he believed in truth, but he also believed that we humans don't always understand or live out that truth very well. Things tend to be messier than we often want to admit. Just take for example how he navigated what some would consider the politics of his own day. (Interestingly, since his death, both political parties have attempted to claim Johnny as their own.) 
Johnny can't be parsed out so quickly. Johnny loved this country. He LOVED America. He has entire albums dedicated to our history and songs about how grateful we should be to live here. He was about as patriotic as a person could be. If you need evidence of this, just try Ragged Old Flag.
He also sang out about our environmental abuses, treatment of the poor, and inequities within the prison system. His entire 1964 album, Bitter Tears, is dedicated to our mistreatment of Native Amerians. Listen to it — it's haunting and often considered one of the finest achievements of his early career. He even refused to get pinned down on the Vietnam War, at one point referring to himself as a dove (someone in favor of peace) with claws (like a hawk ready to fight).
He understood that we live in a complex and very broken world, and resisted giving simplistic answers to hurting people. I wish we had more people like him today.
Johnny knew he needed Jesus
Finally, Johnny knew he needed Jesus. Perhaps this is why he loved people and could hold things in tension so well. He knew he was a sinner who couldn't possibly rescue himself. Many of his final songs (1993 through his death in 2003) are his best work, and many of them are about sin, regret, and a longing for redemption. If you want an example, his cover of the song Hurt as well as the music video (considered one of the greatest music videos ever made) is truly devastating. On the same album, his song The Man Comes Around, about the return of Jesus, is the song he wanted to be remembered for the most. 
One of my favorite stories about Cash comes from his friend Bono, lead singer of U2. Bono tells about a time they were all having dinner together and Johnny said the prayer. Bono describes it like this: "We were all holding hands around the table and Johnny said the most beautiful, most poetic grace you've ever heard. Then he leaned over to me with this devilish look in his eye and said, 'But I sure miss the drugs.' It was that contradiction that I admire about his music as well. It was hard and it was caring, it was about sinful behavior and devotion." (quoted in Johnny Cash: The Life by Robert Hilburn, 535-536).
Johnny knew he needed Jesus and longed for the forgiveness only he could give. He had a mountain of sin and regret but he knew he was loved, and that through the cross of Jesus, he could be redeemed and made whole. Perhaps it's that sense of desperation — no facade, no pretending, no spin — simply clinging to Jesus, that I admire most.