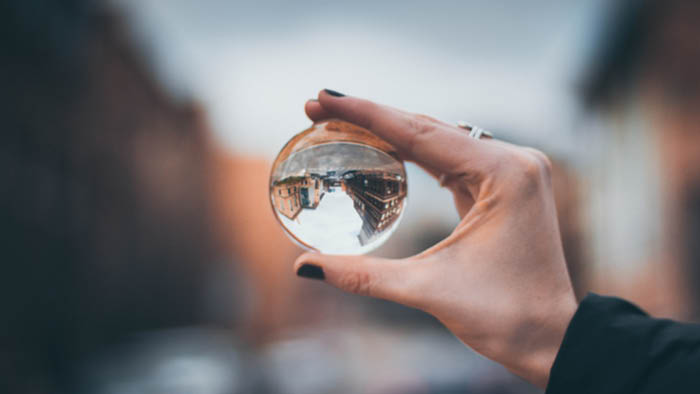 In 1860, Dr. Thomas Inman recommended that his fellow medical professionals not prescribe a medicine for a cure if they weren't sure it would work. Dr. Inman encouraged his colleagues to "give the patient the benefit of our doubts."
We hear this phrase and think that all it means is that we should stop being so critical, minimize our differences, and assume the best in people. In one sense that is true. But giving someone the benefit of the doubt has more to do with the one giving the benefit than the one receiving it. When we give someone the benefit of the doubt, we tend to think that it is tantamount to saying "They are probably just having a bad day" or "I'm sure she didn't mean that" or "He must not really understand everything that he's saying." When I say these things to myself, even in all sincerity, I am still placing the onus of the problem on the other person. I am still claiming that the reason there is tension or division is because of a deficiency of some kind in the other person, not me. The problem is due to something lacking in them, not me.
To truly give someone the benefit of our doubts is to assume the humble posture and perspective that says "There may be something I am not seeing correctly" or "Perhaps I don't have my facts straight." To really give someone the benefit of the doubt implies that we have some level of epistemic humility as we hold our viewpoints and opinions in dialogue with others. It also means that we own up and admit as much to the other person when we recognize this to be the case.
This is in part what the apostle Paul means in chapter 13 of 1 Corinthians when he writes…
1 Corinthians 13:4–7
Love is patient and kind; love does not envy or boast; it is not arrogant or rude. It does not insist on its own way; it is not irritable or resentful; it does not rejoice at wrongdoing, but rejoices with the truth. Love bears all things, believes all things, hopes all things, endures all things.
One of the ways we display the kindness and patience of love with others is by bearing, believing, hoping, and enduring all things. That list of "all things" that Paul mentions is a way of saying that love gives the benefit of our doubts to others. How can we increase our love for others and decrease our resentment of others? By properly giving others the benefit of our doubts.
So how do we do that?
A major prerequisite for really giving someone the benefit of our doubts is knowing the functional distinction between convictions, persuasions, and opinions. This is imperative because it is rather common to find these three things being used interchangeably and synonymously in conversations in our culture. But there is a world of difference between a conviction and an opinion. And as such, there is a world of difference between how you should hold, view, and communicate a conviction in comparison to an opinion.
Let's briefly look at each of these so that we know what we are talking about and how to more genuinely give others the benefit of our doubts.
Conviction-something you hold to be true without question or concern. "I am willing to die for this."
Persuasion-something you are inclined to believe but you are open to be challenged on. "I am willing to fight for this."
Opinion-something you are drawn to but you could take it or leave it. "I am willing to let go of this."
This is not an exact science, nor are these categories meant to be static. As we grow, learn, struggle, and experience things throughout our lives we should expect to see persuasions move to convictions and convictions move all the way down to opinions. And perhaps we might expect something to move into a fourth category that Dr. Martin Luther King referred to as "pious irrelevancies and sanctimonious trivialities." Things that no one should care about because no one else cares about them.
Simply having a clear and functional understanding of these categories can help us tremendously as we engage in conversation and debate with people. But we must do the hard work of clarifying and admitting to ourselves and to others which category this subject falls into for us.
Problems arise in relationships and conversations when we hold opinions as strongly as we do convictions and vice versa. Additionally, we find tensions develop when we miscategorize other people's convictions, persuasions, and opinions. It might be a worthwhile exercise in your next heated conversation with a co-worker or family member to simply ask them what category this subject falls into for them? You may find that framing the discussion in the proper category may mitigate a great deal of unnecessary tension and conflict.
So as we think about giving people the benefit of our doubts, one key way we can do that is to first admit to ourselves that we just might be expressing an opinion disguised as a conviction. This reminds me of that great scene in the Pixar movie Inside Out where a box of opinions and a box of facts spill over and get mixed up. And the character Joy says "All these facts and opinions look the same. I can't tell them apart." This happens so often in conversation.
If we are to grow in genuine love for others then we must learn how to genuinely give the benefit of our doubts. And that requires knowing the difference between our convictions, persuasions, and opinions.
But knowing is half the battle. The other half is found in communicating each of those categories with grace, humility, and slowness.
As the New Testament writer James so convincingly declares…
James 1:19
Know this, my beloved brothers: let every person be quick to hear, slow to speak, slow to anger;
Just because you have an opinion doesn't mean you must share it. Think through if what you want to share needs to be shared. And if it needs to be shared you should ask yourself if now is the time. And do you have all of the information you need in order to speak up?
There is timeless wisdom in the book of Proverbs on this subject. Here are just a few nuggets of stinging insight.
Proverbs 18:13
If one gives an answer before he hears,
it is his folly and shame.
Proverbs 18:17
The one who states his case first seems right,
until the other comes and examines him.
Proverbs 18:2
A fool takes no pleasure in understanding,
but only in expressing his opinion.
Proverbs 17:28
Even a fool who keeps silent is considered wise; when he closes his lips, he is deemed intelligent.
My paraphrase of that last proverb goes like this. "If you aren't smart, try shutting up."
In a day and age when convictions are held like opinions and opinions are shouted as if they were convictions we could stand to learn a great deal about the loving practice of really giving people the benefit of our doubts. But that's just my opinion.