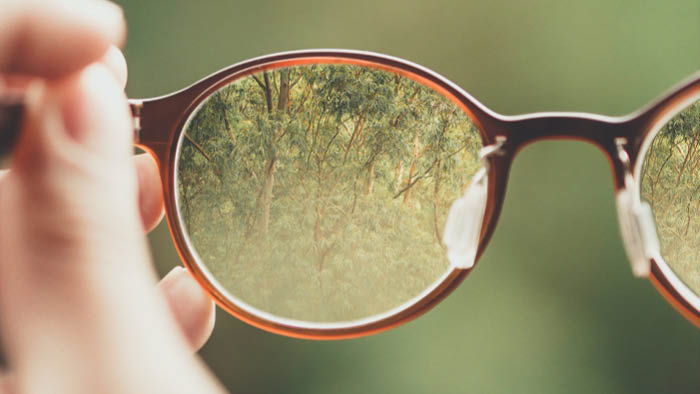 I awoke one morning unable to see because blocked tear ducts had glued my eyes shut. It was frightening. After a deep breath, I tried to make a calm assessment of the situation. I splashed water and carefully rinsed my eyes. Thankfully that was all it took to restore sight to the "blind" in this situation.
To the spiritually blind, however, it takes quite a bit more to restore right vision, as the apostle Paul's conversion story illustrates so well in Acts 9:1-18. In many ways, true discipleship might be measured by how willing we are to acknowledge our spiritual short-sightedness and receive from Jesus a clearer vision of God, ourselves, and the world. Disciples of Jesus are not the only ones to see everything rightly, but rather those who know they need to receive sight from Another in order to see things as they truly are. Our rally cry as believers in Jesus is not "I'll believe it when I see it," but a practiced, humble posture, "I believe it, so only now do I see it." 
In the last half of his gospel, John places a special focus on what Jesus' disciples ought to believe, and so become empowered to see, about Jesus' kingship. Is Jesus king? How so? What does his rule as king challenge regarding our human rulerships? How do we see Jesus reigning on earth when the sin-scarred world is so opposed to God that we sent his Anointed One, the Christ, to be crucified? 
The answer, beginning in John chapter 12 and reaching a climax in chapter 19, is that we see Jesus as king precisely when we see him on the cross. This king reigns over all by becoming a servant of all, even to the point of death (Mark 10:41-45, Philippians 2:5-11). This indeed has been the centerpiece of God's kingdom-advancing plan all along, as we read in Ephesians 1:7-10: 
In him we have redemption through his blood (emphasis mine), the forgiveness of our trespasses, according to the riches of his grace, which he lavished upon us, in all wisdom and insight making known to us the mystery of his will, according to his purpose, which he set forth in Christ as a plan for the fullness of time, to unite all things in him, things in heaven and things on earth. 
John's Gospel displays Jesus' cross-bearing kingship in a visceral, experiential story, inviting readers to step into it and believe what John believes about Jesus, and see what he sees. This is a theme we can trace all the way from Jesus' entry into the city of Jerusalem to his death on the cross. 
In John 12:12-15, Jesus is welcomed into Jerusalem as the long-awaited messianic king, complete with prophetic fulfillment and all manner of pomp and circumstance. John inserts an "as it is written" quotation, confirming the crowd's appraisal of Jesus as king by citing Zechariah 9:9: "Fear not, daughter of Zion; behold, your king is coming…." 
For the disciples, the experience of entering Jerusalem must have included quite a heavy dose of cognitive dissonance. Only the evening before, as written in John 12:1-7, Jesus and his disciples attended a dinner hosted by Martha, Mary, and their once-dead-but-now-alive brother Lazarus. While there, Mary anointed Jesus' feet with expensive ointment and Jesus declared his imminent death: "she has kept it for the day of my burial." (John 12:7, Christian Standard Bible). 
The King who is coming…comes to die? The disciples must have been puzzled. In fact, John tells us explicitly in 12:16 that the disciples decidedly did not understand what was going on. 
John 19:35 is a disciple's pronouncement that the world will never be the same once you see the King of the Universe crucified. After reporting the mixture of blood and water that flowed from the dead Jesus' pierced side, John says, "He who saw it has borne witness–his testimony is true, and he knows he is telling the truth–that you also may believe (emphasis mine)." (John 19:35).
John wrote his gospel to communicate that God came in the person of Jesus Christ, he came to die on the cross, and we can only see Jesus' kingship rightly, over and above other rulers that might call for our allegiance, once we believe. There is a desperate urgency inherent to this faith claim–nothing less than everlasting life hangs on whether you trust it or not (John 3:16).
Life on planet earth is a clash of kingdoms. Who rules your world? When life is thrown off balance, and your best-laid plans crumble beneath your feet, when expectations of what should be are exploded by the detonation of what is, who steps in to become your savior? What becomes raised to messianic heights in your heart? Rather than seeing our King lifted up on the cross, victorious over every deathly sting from this world by succumbing to death itself, do we instead resort to near-sighted grasping for lesser rulers around us? 
As Psalm 115:8 warns, "Those who make [idols] become like them; so do all who trust in them." They reign over us, subverting God's rightful rule and overthrowing our own delegated authority on earth (Psalm 115:16). 
What, then, do we need? Where can we get the right corrective prescription for our soul's ocular malady? Our divine optometrist has bestowed on us the greatest corrective lens in the universe: his very own Word. This is what the Gospel of John, from beginning to end, bears witness to. 
"Open my eyes, that I may behold wondrous things out of your law." (Psalm 119:18). This is the prayer we need. It is only by God's power and initiative that our eyes will be opened to behold him and his world as it truly is. 
We need help to see the King clearly and follow him fully. This is the act of faith that every other act of faith, great or small, is built on. Let us trust God, humanized forever in the person of our crucified King Jesus, and behold him together as he's revealed himself in the Gospel of John.