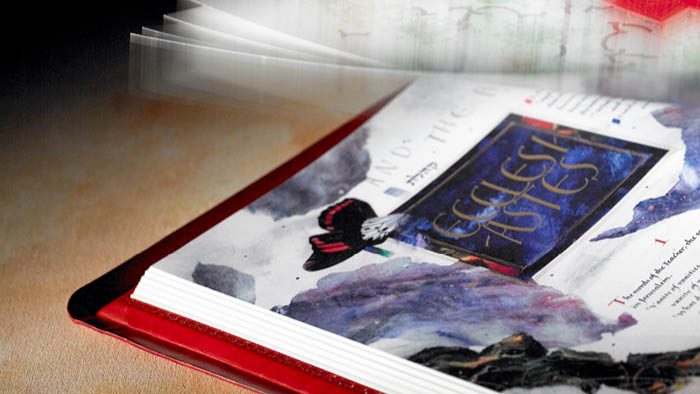 THE ACCESSIBILITY OF GOD'S WORD
Have you ever stopped to think how incredible it is that we are able to have such immediate and unrestricted access to God's Word? It was not always so in the history of the church, and still isn't for some believers today. While Scripture is not always easy to understand, we can engage with it in a myriad of forms whenever and wherever we want. We can choose from multiple translations, read it on an app that will give us access to the original language, and listen to recordings at almost any speed we want.
It is a massive privilege to have so many ways to access Scripture, especially to accommodate unique learning styles. But such privilege can create indifference. If we aren't careful, the living Word of God can become just another kind of media consumed in the same manner as other information.
THE WRITTEN WORD OF GOD AS A RARE WORK OF ART
As an undergraduate, I studied in Florence, Italy for a semester, devoting all of my learning energy to Renaissance Florence. I began to truly see the arts and sciences as deeply shaped by time and place, interconnected and influencing one another. I saw an illuminated manuscript for the first time in a side chapel of a cathedral in Florence. Illuminated manuscripts are a historic art form, and they comprised a range of texts from contracts and legal documents to poetry and Scripture. To be illuminated, a manuscript generally contains some kind of decoration in the form of ornate calligraphy or illustrations. Illumination has existed in various cultures from around the world. This particular volume was like a predecessor to a church hymnal, though it was at least five times the size of any hymnal I had ever seen. The letters were decorated with bright pigments and gilded with real gold. It was more beautiful than any other musical score I had ever laid eyes on. This manuscript was not made to be creased, marked and used, but venerated and treasured.
In the Middle Ages and early Renaissance, these manuscripts were handwritten by scribes, often on vellum made from animal skins. Even the most skilled scribes typically produced only a few pages per day. When editors found mistakes, they had to be painstakingly sanded off the page or creative notes had to be made in the margins to clarify or add missing words, because to start over meant discarding days' worth of work. Entire workshops were devoted to the creation of a single manuscript, sometimes taking years to complete.
In the late Middle Ages, the largest library in western Europe included less than 2000 books. If a household owned even a single volume, they were considered very wealthy. You can probably imagine how rare it was to have a copy of the Bible in your household at this time in history. The Word of God was not nearly so accessible to them as it is to us.
The accessibility of knowledge in written form changed forever in 1450 with the invention of the Gutenberg press, and with movable type came the ability to mass produce books in the Western world. What had once been accomplished by human hands could now be done by machine at over a thousand times the speed. In fact, Gutenberg's first project was to print a new edition of the Bible. But before movable type, copies of the Bible in a single volume were extremely rare. Instead, you'd find several books of the Bible grouped together, like the gospels or the psalms.
Because of their rarity, these manuscripts were precious, and so a lot of effort went into making them beautiful. These handwritten Bibles featured beautiful calligraphy–the words themselves were works of art. Detailed paintings, decorations, and symbolic imagery graced the pages alongside the words. Some volumes are so big that they take up to three librarians to lift. But not all of these books were created for ceremonial display; there were also devotional prayer books built around the passing hours of the day that were essentially pocket-sized and likely used in personal worship. Even these pocket volumes were lavishly decorated across the pages and margins.
Some of the images and symbols from these Bibles feel totally foreign to modern viewers, while others are awe-inspiring in their detail and beauty. The Bible stands as a living artifact, in many ways outside of time. Human beings continue to carry Scripture in their hearts and minds through time, which means that we wear a specific lens when we engage with it, and it takes effort to become aware of that. This is a beautiful reminder of the fact that God chose to partner with human beings in the ancient Near East who were bound to their particular time and place, too. They also wore a cultural lens, but by the inspiration of the Holy Spirit, God used people to create something that transcends time and continues to alter the course of the future.
"IMAGISTIC" THINKING AND SCRIPTURE
The vast majority of Bibles from the Middle Ages were illuminated, and that speaks volumes about the way Western Christians in that time period approached the text. It doesn't just mean that they valued beauty as a part of their practice of worship, it also communicates that images were valuable to their process of understanding and meditating upon Scripture.
Imagistic thinking means that when we encounter an image, either in a painting or in the pages of Scripture, rather than only evaluating it analytically or materially, we are looking for the connections and meaning behind it. John Walton argues in his book The Lost World of Adam and Eve that ancient Near Easterners were imagistic thinkers, and were "more likely to think of the world in terms of symbols and to express their understanding by means of imagery." By contrast, in our culture we are more analytical and scientific in our thinking, and are "primarily concerned with causation, composition, and systematization."
A great example of imagistic thinking comes in Exodus 14, when God gives Moses the power to divide the sea and makes a way for the Israelites to pass through on dry ground.
The image here is of water being divided and dry ground emerging. The first time we see this image is during days two and three of creation, when God orders the chaotic waters and makes a way for human beings to survive on dry land. If modern readers analyze Exodus 14 and focus only on the material possibility of separating water in the particular manner described in this text or focus on the question of the historical accuracy or dating of such an event, they miss the rich meaning behind the image: God orders chaos and makes a way for salvation, no matter how dire the circumstances, and he has been doing so since the very beginning of creation. This doesn't mean we disregard questions that are natural for us to ask, like, "Did this actually happen?" It means we don't only ask those questions.
Art can sometimes remind us that there are invisible meanings and connections beyond what we can see and understand, and if we develop our capacities to engage meaningfully with art, it can assist us in the more difficult process of engaging with the complex images of Scripture. There's always another layer of meaning we can discover beneath any given passage. Art also provides a material means for us to meditate upon an image without needing to hold it in our imagination. We live in an increasingly visual culture and younger generations are filled with more visual learners.
PROLONGING OUR ENCOUNTERS WITH GOD
It isn't just recovering imagistic thinking that makes illumination valuable. Contemplating illuminations with the text slows us down, beckons us to stop and look, and through that act of intentional seeing, it enables us to notice things that we may not have otherwise. Sacred artists spend time soaking in Scripture and the presence of the Holy Spirit, and they return from that in-between place, offering us a glimpse of their experiences through their work.
When I consider the workshops of illuminators from the past, I imagine artists and thinkers who spent their days contemplating the text and in this in-between, meditative state, they created places for the readers of Scripture to prolong the moment of being in the presence of the Living God.
WHAT WAS LOST AND THEN FOUND: IMAGE WITH WORD
With the invention of the printing press, the practice of illumination rapidly declined. Books could be mass produced and so they became less precious. The materials used to produce books changed with technological advances. Yet, though it declined, illumination did not disappear entirely. There were some workshops that continued to produce illuminated manuscripts. It was after the end of the Renaissance that the practice of illumination faded into obscurity.
Fast forward nearly four hundred years to Collegeville, Minnesota, a small town northwest of the twin cities. British calligrapher Donald Jackson was visiting Saint John's Abbey and University in 1995. Jackson had encountered an illuminated manuscript in a local museum as a child, and his dream of one day creating an illuminated Bible was born. While visiting Saint John's, he sensed the high value they placed upon aesthetics and faith. He invited them to share in his vision of a modern illuminated Bible, and Saint John's University made the huge commitment of time and resources to commission one of the first complete illuminated Bibles since the invention of the printing press.
THE SAINT JOHN'S BIBLE
This project was a collaborative effort of theologians, scribes, artists, and craftspeople from around the world. It was created in seven volumes, with over 1,100 pages that are two feet tall and three feet wide. Each page of calligraphy took 7-13 hours to complete and was written on calfskin vellum using turkey, goose, and swan quills. The team of scribes used natural handmade inks, hand-ground pigments, and gold and silver leaf gilding. There are over 160 illuminations that grace the pages.
The project took over eleven years and cost 8 million dollars, funded by approximately 1,500 donors.
Though the materials and processes used to create the Saint John's Bible mirrored the ancient practices of Medieval Bibles, the symbolism, art, and imagery of these Bibles is firmly rooted in the twenty-first century, a reminder of our ongoing participation in carrying Scripture forward, bound as we are to our particular time and place.
One beautiful example of this is that all of the symbolic illuminations that feature plants and animals in the Saint John's Bible are native species to either the woods surrounding Saint John's University or Jackson's scriptorium in Wales. One illumination is of a monarch butterfly in various stages of transformation. The monarch was an endangered species at the time the Bible was created, and one of the donors was heavily involved in conservation efforts to save monarchs. At the same time, the chrysalis and butterfly are powerful symbols of death and resurrection. This reveals the many layers of meaning and significance that can exist within an image, some of them tied to time and place, while others are timeless.
The Saint John's Bible is a gift to modern Christians. It speaks to the power of beauty as we engage with the truth of God's word. As a visual artist and an arts advocate, it also reminds me of the role the church can have in encouraging artists as a community. When the Holy Spirit spoke the dream of creating an illuminated Bible into Donald Jackson's heart as a boy, I doubt Jackson understood how many people it would take to realize such a vision. God's provision can be seen all over the pages of this magnificent Bible, and it will be a heritage of beauty and truth for generations to come.
RESOURCES FOR FURTHER EXPLORATION
View the Book of Kells online. This is a gospel book from c. 800, and it opens with ornate visuals that demonstrate the harmony of the gospels.
The Black Hours is a worship book containing the office of the hours that was created on vellum that was stained black. You can view the manuscript online.
The Ebbo Gospels can't be viewed in its entirety online, but you can see the stunning and unique portraits of the gospel authors, which are in a style that is energetic and unusual for the time period.
The Saint John's Bible has an amazing website that you can explore to learn more.