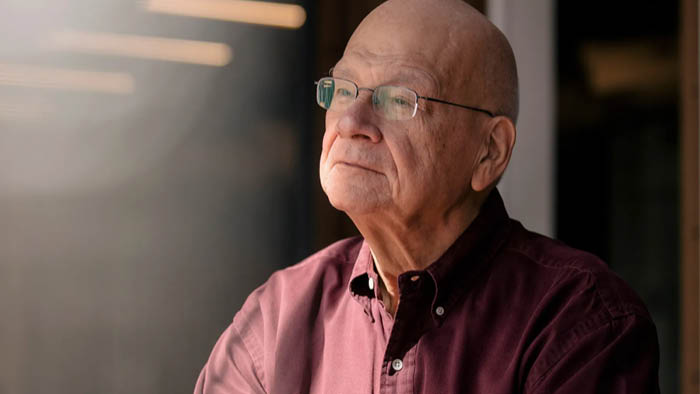 The first time I heard Tim's voice was on a pair of cheap earbuds in a noisy Caribou Coffee in Deerfield, Illinois. I was a first-year seminary student and was there studying with some friends. At some point, I took a break from studying and that's when my friend Josh waved me over to his table. "You ever heard of Tim Keller?" he asked. "No," I replied. He all but forced me to sit down and put his cheap, and not super-clean, earbuds in my ears. "You've got to listen to a few minutes of this sermon!" So after wiping off the earbuds, I put them in and started listening. To be honest, I don't remember what sermon it was or what it was about. Part of me was just thinking: How long do I have to listen before I can take this guy's earbuds out of my ears? What struck me in that moment was Tim's thoughtfulness and winsomeness. 
I didn't know it then but that borrowed-earbud moment introduced me to someone who would profoundly shape who I would become as a pastor and preacher. Apart from Tom Nelson, our Senior Pastor at Christ Community who I have known for over 20 years, no one has more profoundly influenced my pastoral ministry and particularly my preaching, than Tim Keller.
Tim died on May 19, 2023 after a battle with pancreatic cancer. In appreciation for him and his impact on me and so many others, I want to share three things Tim taught me through his writing, preaching, and teaching.
The Gospel: The A-Z not just the ABCs
First, Tim taught me that the gospel is not just the ABCs of the Christian life. It is the A-Z. He taught me that we never get beyond the gospel, we only go deeper into it. He writes in his book, Center Church: Doing Balanced, Gospel-Centered Ministry in Your City:
The gospel is not just the ABCs but the A to Z of the Christian life. It is inaccurate to think the gospel is what saves non-Christians, and then Christians mature by trying hard to live according to biblical principles. It is more accurate to say that we are saved by believing the gospel, and then we are transformed in every part of our minds, hearts, and lives by believing the gospel more and more deeply as life goes on.  
The work of discipleship and spiritual formation is engaging practices, habits, and routines that remind us of, and shape us with, the gospel in every facet of life. 
The City: An opportunity not just an obstacle
Second, Tim opened my eyes to the reality that city centers are not obstacles to gospel ministry. They are incredible opportunities for gospel influence. Growing up in a suburb of St. Louis during the 1980s and 90s, I typically thought of "downtown" or the "city center" primarily as a place that was difficult to navigate as well as potentially physically dangerous and spiritually detrimental.
In fact, if you had told me as a high school student that my first permanent pastoral position after seminary would be leading an effort to plant a church campus in downtown Kansas City, I wouldn't have believed you.
But Tim's teaching on the city captured my imagination and transformed my affections. In my beat-up, well-worn, spiral-bound copy of the Church Planter Manual from the Redeemer Church Planter Center, Tim writes:
Because of the power of the city, it is the chief target of the forces of darkness, because that which wins the city sets the course of human life, society and culture. …if the Christian church wants to really change the country and culture, it must go into the cities themselves, and not just into the suburbs or even the exurbs. Three kinds of persons live there who exert tremendous influence on our society.… They are: the elites who control the culture and who are becoming increasingly secularized; the masses of new immigrants who move out in the mainstream of society over the next 30 years; the poor, whose dilemmas are deepening rapidly and affecting the whole country. 
This, along with Tim's compelling teaching on Jeremiah 29 as a vision for Christians seeking the flourishing of the city, transformed not only how I thought and felt about city centers but gave me a picture of what sort of church was possible in the city. 
The Church: Evangelism not just formation
Third, Tim showed me a "third way" between "seeker-sensitive" church services and "believer-focused" worship gatherings. Tim challenged church leaders to always speak and act as if non-believers were in the room. The goal isn't to make the service comfortable for those who don't yet believe, but rather to make it comprehensible for those who don't believe. He wrote in Center Church:
Contrary to popular belief, our purpose is not to make the nonbeliever "comfortable."…Our aim is to be intelligible to them…. Seek to worship and preach in the vernacular. It is impossible to overstate how insular and subcultural our preaching can become. We often make statements that are persuasive and compelling to us, but they are based on all sorts of premises that a secular person does not hold. …So we must intentionally seek to avoid unnecessary theological or evangelical jargon, carefully explaining the basic theological concepts behind confession of sin, praise, thanksgiving, and so on. In your preaching, always be willing to address the questions that the nonbelieving heart will ask. Speak respectfully and sympathetically to people who have difficulty with Christianity.  …Listen to everything that is said in the worship service with the ears of someone who has doubts or struggles with belief. 
Tim didn't just write about this as an ideal. He lived it out in every sermon he preached. Through his preaching, I learned from Tim that there is a way to engage people who are skeptical about Christianity while continuing to encourage and equip those who are followers of Jesus.
Conclusion
When I heard the news he had died, tears welled up in my eyes. I knew that he was sick. I knew that he would die soon. But I was still surprised by the emotional impact on me when he actually died. While talking to one of my best friends about the impact that Tim's had on us, he paused and reflected that there are thousands of other people across the country and around the world who are having similar conversations about Tim's impact. I'm deeply grateful to Jesus for the gift of Tim Keller. I miss him already. Thank you for all you taught me, Tim.