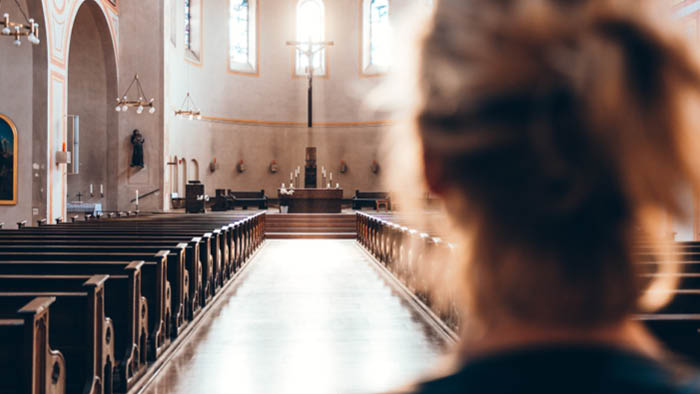 I'll be honest with you: there are times I have found it hard to be honest with God. The strange thing is, it's not because I want to be dishonest with God. Sometimes it's because I am stressed and anxious, and my prayers are fast-paced and emotionally disengaged. Sometimes it's just because I am angry, and due to my personality and whatever else is going on inside me, I struggle to address my anger and I avoid it. Sometimes I feel like I don't have the energy or the focus to center myself on him for a long time. 
Searching in the past
Here's another reality: sometimes, when I am praying I am unable to conjure up the words to say what I really want, or what I really need to, in order to be honest with God. Even when I have a strong desire to be with God in prayer,  I can struggle with words. For someone who loves poetry and all forms of literature, that's hard to even admit. 
Over the years I have taken great comfort in the fact that God can use my silence; my silent mouth and body that is just sitting and seeking to be close to him. Conversely, I take great comfort in the fact that I can trust God listens when I just ramble on and purge out all my random cares. But even more satisfying and expressive of my own feelings are prayers of the saints of old. These are prayers that seem holier than me, prayers that when I pray them, I feel like I'm standing on the shoulders of Christians who lived faithfully. 
When people ask me what my prayer life is like, I often respond with a simple truth. I typically have a mantra going on in the back of my head throughout the day. It's the Jesus prayer; it is my quickest access point, my default, the groove I often fall back into when I pray. It goes like this:
"Jesus Christ, Son of David, have mercy on me, a sinner. Amen." 
This prayer, over and over, is a place of honesty for me. It's raw. I find great comfort in it. 
Finding in the present
And yet, recently I really felt a desire bubble up in me for more words. And not just the easiest, accessible ones, and not ones from the ancients. I want words that correspond to my modern life, but still have real depth. That get at the heart of my distractions, my anxieties, my fears, my thoughts about God, and my thoughts about myself. 
In my searching I've stumbled into some modern prayer books that have given me fresh language—new words to pray. As someone who often celebrates the ancients and their faithfulness to God in prayer, I have been surprised at how, through these fresh prayers, I can enter into real, honest moments with God. In fact, these prayers have given me the words that I desire but don't have, that my heart feels and needs. 
In Living Like Monks, Praying Like Fools by Tyler Stanton I found a prayer by Ted Loder. He passed away recently, but he was a longtime pastor in Philadelphia, and spent much of his life writing prayers. I don't agree with him on all things, but there are a few of his prayers that have connected with me in the past months. If you are anything like me, the prayer printed below offers words that correspond to my world, my lived reality, and offer it up to God in a comprehensive way. 
"There is Something I Wanted to Tell You" 
Holy One, there is something I wanted to tell you, but there have been errands to run, bills to pay, arrangements to make, meetings to attend, friends to entertain, washing to do… and I forget what it is I wanted to say to you, and mostly I forget what I'm about or why. O God, don't forget me, please, for the sake of Jesus Christ…. 
Eternal one, there is something I wanted to tell you, but my mind races with worrying and watching, with weighing and planning, with rutted slights and pothole grievances, with leaky dreams and leaky plumbing and leaky relationships that I keep trying to plug up and my attention is preoccupied with loneliness, with doubt, and with things I covet and I forget what it is I want to say to you and how to say it honestly or how to do much of anything. O God, don't forget me, please, for the sake of Jesus Christ…. 
Almighty one there is something I wanted to ask you but I stumble along the edge of a nameless rage, haunted by a hundred floating fears, of war, of losing my job, of failing, of getting sick and old and having loved ones die, of dying, and I forget what it is the real question is I wanted to ask and I forget to listen anyway because you seem unreal and far away and I forget what it is I have forgotten. O God, don't forget me, please, for the sake of Jesus Christ…. 
O Father in Heaven, perhaps you've already heard what I wanted to tell you, What I wanted to ask is, forgive me, heal me, increase my courage, please. Renew in me a little of love and faith, and a sense of confidence, and a vision of what it might mean to live as though you were real, and I mattered, and everyone was sister and brother.
What I wanted to ask in my blundering way is don't give up on me, don't become too sad about me, but laugh with me, and try again with me, and I will with you, too. What I wanted to ask is for peace enough, to want and work for more, for joy enough to share, and for awareness that is keen enough to sense your presence here, now, there, then, always. Amen.