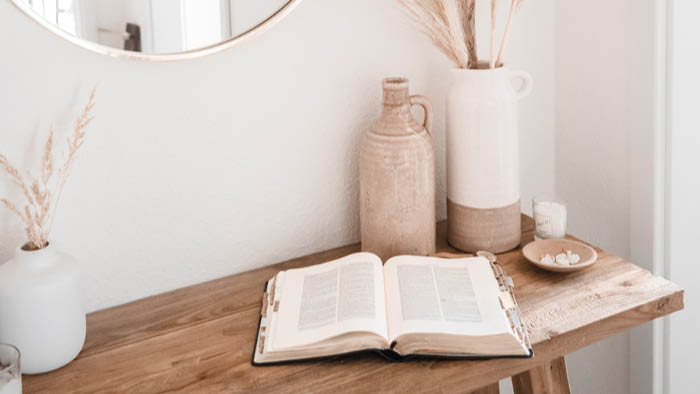 A few months ago I received a unique and exciting pastoral request. A young couple, Luis and Marineya of our Downtown Campus, purchased a house, and they wanted a pastor to pray for God's blessing over their new home. Marineya is from Bolivia and explained it is typical in her culture to invite one's faith community and spiritual leaders to do this when moving into a new house. She said this can "be a way for us to dedicate our house to God in service in front of our church community since all we have is his and not ours."
I was intrigued by this idea, having never heard of someone doing something like this. Also, I was deeply honored to be asked. So one Saturday evening, their community group, some other church friends, and I huddled together in their home to pray for God's blessing over their journey there. We used a prayer liturgy adapted from Every Moment Holy, had a time for people to pray specifically for Marineya and Luis, toasted to their new home, and then continued the celebration with food and drinks. 
Whole Life Discipleship
For me, this experience so beautifully embodied the kind of whole life discipleship we talk about so often. Jesus is Lord over every area of our life and deeply cares for the spaces where we live, work, and play. We should intentionally find ways to remind ourselves of that reality. We spend much of our lives in our homes, and it is important to mark those key transitions with a focus toward God and his vision for them. I am grateful for Marineya and Luis' initiative to invite their church community and me into this practice. 
Below you will find the adapted liturgy we used that evening. I encourage you to consider using this liturgy or something like it the next time you or a friend move into a new house or apartment! Gather others from your spiritual community and prayerfully and intentionally celebrate God's blessing in the provision of a new home. Also, take some time to peruse the Every Moment Holy website and consider purchasing one of their prayer books. There are so many moments throughout our daily lives where we can intentionally remind ourselves of God's presence in them. 
A Liturgy for Moving Into a New Home

– adapted from Every Moment Holy*
Leader: We thank you for _________'s new home, O Lord, for the shelter it will provide, for the moments of life that will be shared within it.
People: We thank you for this new home and we welcome you here.
Dwell with them in this place, O Lord
Dwell among them in these spaces, in these rooms.
Be present at this table as family and friends eat together.
Be present as they rise in the morning and lie down at night.
Be present in the work here. Be present in play.
May your Spirit inhabit this home, making of it a sanctuary where hearts and lives are knit together.
Where bonds of love are strengthened, where mercy is learned and practiced.
May this home be a harbor of anchorage and refuge,
And a haven from which they journey forth to do your work in the world. 
May it be a garden of nourishment in which their roots go deep
That they might bear fruit for the nourishing of others.
May this new home be a place of knowing and of being known.
A place of shared tears and laughter;
A place where forgiveness is easily asked and granted,
And wounds are quickly healed;
A place of meaningful conversation, of words not left unsaid;
A place of joining, of becoming, of creating, and reflecting;
A place where diverse gifts are named and appreciated;
Where they learn to serve one another
And to serve their neighbors as well;
A place where their stories are forever twined by true affections.
Grant also, O Lord, that their days lived gratefully within these temporary walls, enjoying these momentary fellowships, would serve to awaken within them a restless longing for their truer home. Incline all our hearts ever toward the glories
Of that better city, built by you, O God, a city whose blessings are never ending, and whose fellowships are eternally unbroken.
Amen.
*The original prayer was written for a family to pray together when moving into a new home, so I shifted the language so that it made sense for the broader faith community to pray over a family as they move into a new home.