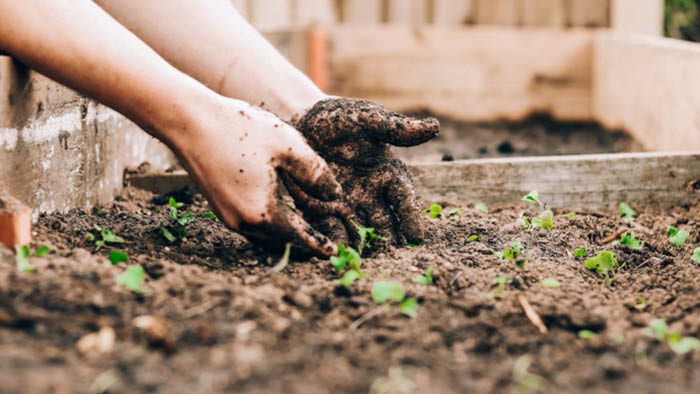 Desiring New Creation
We all long for things to be complete, to be whole (James 1:4). We long for our marriages to be whole. We ache for our family relationships to be safe, close, and deep and we want the same for our friendships. We feel the groaning of churches full of broken, still-in-process people, and the difficulty of life within a broken, still-in-process world. We long for wholeness in our communities, cities, and nations. Ultimately, all this longing points to a desire for new creation.
God desires the same thing. In fact, He desires it more deeply, more excruciatingly than we ever could, with a vision for newness that far exceeds anything we could dream up or hope to imagine. His heart's desire is for the integral restoration–reconciliation–of the whole creation (Colossians 1:20). We, all people and creatures, exist in an interdependent community, which author Wendell Berry likes to call a "membership." We are members one of another. We belong to one another and to the land.
Genesis 1-2 sets the stage for this membership of God's creatures. In Genesis 1:24-31, humans and land animals are created on the same day. Humans are unique in bearing God's image, but not so unique as to warrant our own creation day. We belong to the same land, knit together in mutual dependence on God and all that He had created thus far—sunlight, soil, water, vegetation. God takes up the role of a gardener, calling us into life from the earth like a seed sprouting into a fruiting tree: "Let the earth bring forth living creatures…" (Genesis 1:24). We are earthlings bonded to the earth and to one another—for good or for ill.
Humans are then called to be fruitful and rule, reproducing the goodness God had made (Genesis 1:27-31, 2:15). We were made to work for the flourishing of this community. But, tragically, we were-—we are—broken.
The curse earned by human rebellion against God's goodness produces estrangement precisely in the interconnections we were created for. The labor of childbearing and the labor of cultivation are intermixed with pain and toil (Genesis 3:16-19). We and creation have never known a day without groaning since that rebellion (Romans 8:22-23). Infertility. miscarriages, droughts, hurricanes, war, and injustice; all of this brings us back to desire. Our groanings point to a deep desire for something more. We know, our very bodies—and we who are Christ's Body—know, with every ache and disease and division, that we need to be changed, or perish.
Beholding New Creation
Graciously, this is exactly what God desires: to shape us into something new, to restore us to the wholeness we were made for. The prophet Isaiah looks forward, as through a fog, and voices God's desire, "Behold, I am doing a new thing." (Isaiah 43:19). In the last book of the Bible, John records the same desire as he hears Jesus proclaim in that vision of the new creation, "Behold, I am making all things new." (Revelation 21:5).
Then, the angel shows John the vision: a city called the New Jerusalem, with twelve foundations and twelve open gates symbolizing God's story of redemption revealed through Israel and the apostles. (Revelation 21:9-21).
Jesus, the Lamb, illuminates the city from its center, and all the peoples of the earth bring their glory into it—the beauty of each and every redeemed human culture (Revelation 21:22-26). Other creatures live there, too, worshiping God with His restored people (Revelation 5:13, 7:9-12). This is the new creation reality: every culture and every creature living together in the light of the Lamb. This is the integral wholeness for which we were created. Even in the present darkness, we behold the light of new creation shining back at us.
But can we be new now? Is this vision for us who groan in the midst of "this present evil age" (Galatians 1:4)? In our time, now, can our desires come to fruition, can they bear fruit and birth a new kind of life? Or are our desires to be cursed with toil and pain, barren and dormant until Jesus comes again?
Embodying New Creation
God would not have revealed our eternal tomorrow if He did not mean for it to change our today. To change us. Today.
When we see God, we're changed (2 Corinthians 3:18, 1 John 3:2-3). Paul's only use of the phrase "new creation" is when he is talking about the present people of God. Paul declares that the thing that matters most as a result of Christ's work on the cross is this: new creation-that is, the newly created people of God from all possible strata of society (Galatians 3:28, 6:15). Then, in the context of describing the reconciled community, Paul says that anyone who is in Christ is "a new creation; the old has passed away; behold the new has come." (2 Corinthians 5:17).
There is a sense, then, in which the great change of new creation has already come. Not fully—Paul begins 2 Corinthians 5 describing his longing to put off the earthly body and dwell in the heavenly one—but somehow, truly and substantially, the new creation reality is already embodied by God's people. This is the hope we live in, today, even as we wait for its consummation (Romans 8:24). This is the at-hand Kingdom of which we are ambassadors (Mark 1:15, 2 Corinthians 5:20). This is the truth to which we are called to bear witness (John 15:26-27).
The new creation reality exists in Christ Himself, and in any and all who have been reconciled to Him, to one another, and to the earth (Ephesians 1:10, 2:16).
He taught us to pray for His kingdom to come… later? Somewhere else? No. Here. Now. "On earth as it is in heaven." (Matthew 6:10).

If He wants us to pray for it, He wants us to labor for it.
Like a master sculptor bringing stone to life, He is already making us new (Ephesians 2:10). If you follow Jesus, you are His apprentice. Join with Him in the work of new creation. Let us labor for all the earth's peoples to belong, by the blood of His cross, as we worship the Lamb together in one voice with all the earth's creatures (Colossians 1:20, Revelation 5:13, 7:10).
Jesus has called us into the world, into all its groanings, so that we, the membership of all God's creatures, might experience a foretaste of the fulfillment of our deepest desires to become something beautifully new.