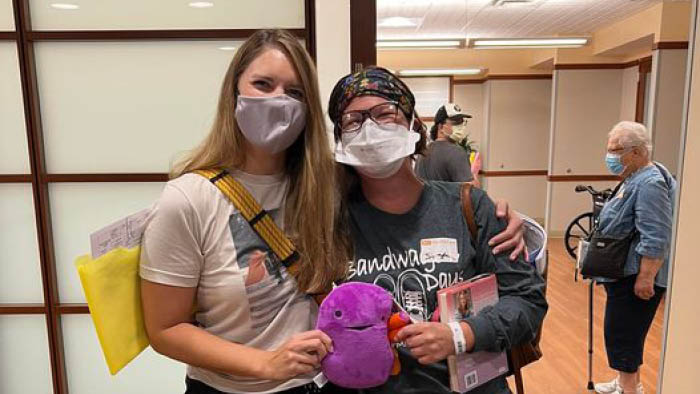 This spring I was asked to prepare the Ash Wednesday sermon for the Brookside Campus. Ash Wednesday is a beautiful tradition that reminds us we are dying and the cross is our only cure. 'Remember that you are dust, and to dust you shall return' are the words spoken over each of us as we receive ashes.
I didn't expect the concept of mortality to hit me very profoundly, but during my preparation, I was in the thick of relentless pain. My feet had totally betrayed me and decided to become weapons of torture every time I walked. So, as I wrote a sermon about the fact that our bodies are breaking down, my physical therapy, foot braces, and steady diet of ibuprofen reinforced that message.
A New Generosity
But then God did a new thing in my heart (as he always seems to do when I least expect it!). The afternoon of Ash Wednesday, I had rehearsed my talk for the last time, and I thought I'd take a breather and check some texts and social media. There on Facebook was an update from a dear, lifelong friend who needed a kidney transplant, and she needed it soon.
Everything in me said, "I need to do this!"  God had just impressed upon me through the sermon prep how temporary our lives are—that our bodies are not our prize, but eternity is. I felt him saying that although I struggled with pain, I had been forgetting the millions of other ways my body does work. One of those ways was having a rock star kidney that my friend Mollie could desperately use. Considering eternity opened up a new freedom to live with more generosity in how I use and see my physical body.
Choices
I have a choice on how I will use this body while I have it. Will I spend my energy cursing it for all the ways it breaks or doesn't fit my standard of appearance/size/shape, or will I thank it? Will I accept that my physical body is the primary way God uses me to deliver his love to others— whether that's through physical closeness (A wave! Smiles! Laughter! Hugs! Snuggles!), or through words (written or spoken) that bring life and goodness to others? If I don't, I'm missing out on a very tangible blessing and a way that God has designed me to bring his light to the people in my space.
Will I see my body as something I have absolute rights over that must be defended at all costs or as something that, like Jesus, I am called to sacrifice – even my bodily rights – out of love for others? Is it my body, my choice, or is this the Lord's body, which he has entrusted me with, loving me enough to give me the freedom to choose how I will use it? As we ask that question, let's not forget that the freedom we have in Christ, is freedom not to serve myself, but freedom to love and serve others (see Galatians 5:13-14), just like Jesus did.
Jesus was also entrusted with a body – he was called Emmanuel – God with us. This "with us" nature makes him like no other God: all powerful and expansive while also as a friend who "sticks closer than a brother". Christ was physically present on earth; he taught, touched, healed, hugged, and loved real people. Ultimately, he would end up using his physical body as a means to purchase our salvation on the cross. God clearly sees bodies as integral to his redemptive work in the world! 
Do you not know that your bodies are temples of the Holy Spirit, who is in you, whom you have received from God? You are not your own; you were bought at a price. Therefore honor God with your bodies. – I Corinthians 6:19-20
Life to the Full
During the process of deciding to donate a kidney, I had dozens of opportunities to back out. The transplant process is designed well to ensure that donors do not feel pressure or coercion to donate an organ (which is great!), so at every turn, I had to choose again – do I want to make this sacrifice, or not? 
Trust me, I seriously considered all the "cons": an invasive surgery with four nasty scars to prove it, dealing with pain and the side effects of being on heavy medications, recovery time, inconveniencing my co-workers, needing to ask (and graciously receive) help from my network of people, and putting a pause on my fitness routine. But, there was one item in the "pro" column that overshadowed them all: Mollie gets to live life to the full and see her kids grow up and grow old with her husband! That would mean Mollie gets to continue to choose to use her God-given body to bless people as she has done for years, whether that's as an ENT physician assistant who cares deeply for her patients, or the children she treats in a Kenyan clinic each time she travels there to serve, or the kiddos in desperate situations she and her family foster. The choice was easy: if I choose to give this body away, God's work can be multiplied in the days we still have here on earth.
Giving Thanks
Clearly, organ donation is not the path for all of us! You don't need a major medical procedure to learn to love and appreciate all that your body is capable of. There are so many more easily accessible ways to pause and consider how you and your physical body can bring a little bit of the kingdom to someone else. 
Think about how you are using your energy today. How much of it is spent on your personal goals? Is there anything left for anyone else? Does some reordering need to happen? 
Your job, home-ownership, or parenting are excellent places to reconsider your body as a tool for generosity. What would not get done if you physically were not there? Your daily activities keep the ship afloat, so give thanks! Are there places we can reframe some aspects we might dread? Such as driving the kids from one activity to the next, collaborating with a chronically difficult co-worker, or how quickly a cleaned up house destructs into a mess yet again? 
These tedious or challenging spaces are actually opportunities to use your body to bring God's joy, beauty and mercy to others, by simply being willing to do them. Next time you start one of these dreaded tasks, invite the Spirit to join you, using your body as the avenue to be the 'kingdom come' to those you do it with or for.
Let's thank our God-given bodies and recognize them as holy spaces, where the Living God dwells, and let's do it beginning today. Paul says it best in Romans 12:
Therefore, I urge you, brothers and sisters, in view of God's mercy, to offer your bodies as a living sacrifice, holy and pleasing to God—this is your true and proper worship. Do not conform to the pattern of this world, but be transformed by the renewing of your mind. Then you will be able to test and approve what God's will is—his good, pleasing and perfect will. – Romans 12: 1-2
A Tool of Generosity
And to not leave you hanging, the kidney transplant procedure for Mollie and me is complete. I'm writing this while on medical leave with a good amount of healing yet to come, but on all accounts, it was a successful surgery. Mollie's kidney function soared from only 14% to 93% shortly after surgery! We felt God's presence and promises in what I can only describe as a worshipful experience. 
My body is His body, and what a freedom it is to affirm it as a good tool of generosity even when it has flaws. The day of perfect, redeemed bodies will come, but until then, let's use what we have to give ourselves away!