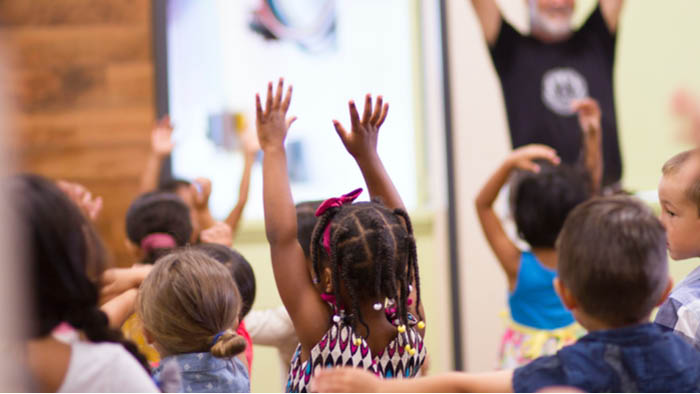 Getting kids to church can be a challenge — at any age. When they are infants it's because it just takes so much work to pack them up. Kids at that age require so much gear! Later as toddlers, separation anxiety can make dropping them off at the Children's Ministries area challenging to say the least. With elementary-age kids, sports and other activities can easily compete with and crowd out opportunities for kids to participate in church events. Then as pre-teens and teens, a normal and healthy burgeoning sense of autonomy can be challenging to parental suggestions or expectations for church involvement. 
So as a parent — at any stage — the question on any given weekend can understandably be Is it worth the effort and energy to help get my kids to church this week? 
Now I am a pastor so I know you're probably not going to be shocked if I say, Yes! It's worth it. (It feels a little like asking a personal trainer if working out is worth it. Of course they are going to say yes.) So I'm going to let someone else answer the question. 
Recently, Christianity Today magazine published a summary of findings about children's health from researchers at Harvard's (yes, that Harvard) T. H. Chan School of Public Health (i.e. not pastors). 
The researchers led by Tyler VanderWeele "…examined a large swath of data, collected over more than a decade, which tracked the development of 12,000 nurses' children into their young adulthood. The longitudinal study surveyed social, physical, and mental health trends across the group—like substance abuse, anxiety/depression, community engagement, and sexual activity."
The team was curious about how schooling choices and religious service attendance correlated to health outcomes. Here's what they found:
In comparing key health indicators, the researchers found little difference between the long-term well-being of adolescents who attended public school and those who went to private school. (All of the kids who participated were between the ages of 9-14 when the study began.)  
So parents you can breathe a little sigh of relief there. But what about religious service attendance? How much does that matter? 
"What we found was that religious service attendance makes a bigger difference than religious schooling," [VanderWeele] said. "Religious service attendance has beneficial effects across the different school types and has stronger effects than religious schooling."

In other words, the kids who grew up attending church regularly rated far higher in overall well-being as young adults than those who went to a religious school but did not go to religious services during their formative years.
Did you catch that? If you take two kids — one who attends church once a week regularly and another who goes to a religious school five days a week but attends church only sporadically — it is the regular church attendee who fares better. The researchers concluded that "…religious service attendance in youth was clearly the more dominant force in shaping health and well-being, at least as this pertains to the data and experiences 20 years ago." 
Here's the bottom line from the Christianity Today summary: 
Furthermore, "regular service attendance helps shield children from the 'big three' dangers of adolescence: depression, substance abuse, and premature sexual activity," VanderWeele writes in his latest article for Christianity Today. "People who attended church as children are also more likely to grow up happy, to be forgiving, to have a sense of mission and purpose, and to volunteer."

"So regardless of school type," VanderWeele says, "it's beneficial to go to religious services, both as an adolescent and as an adult."
These findings highlight the beauty and wisdom of God's design for the local church. When parents dedicate their children at Christ Community, one of the questions they are asked is: Do you promise, before God and this congregation, that you will be faithful in worship, both in the home and in the church?
Those two spaces —the home and church — are vital to human health and flourishing. This is why Christ Community's Children's Ministries and Student Ministries staff and volunteers put so much effort into equipping parents. Parents play an outsized role in their children's faith development. However, what the Harvard analysis shows  is clear. It isn't enough to simply be faithful in worship at home if we want our children to truly flourish. It also requires being faithful in a worshiping community; a local church.