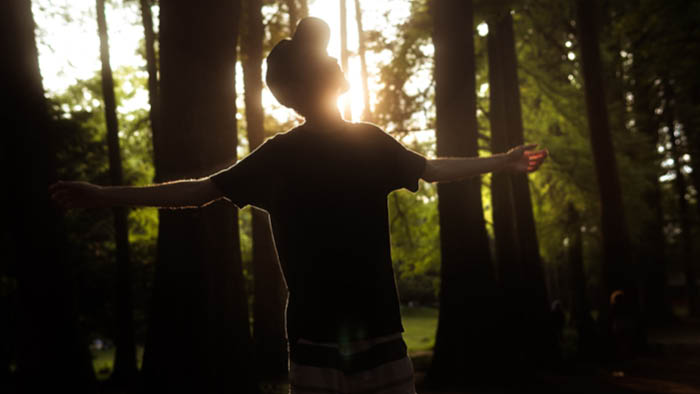 Although it isn't a common colloquial phrase in contemporary culture, navel-gazing is something we ought to consider bringing back as a practice of spiritual formation. That may sound rather odd to our modern ears, given that we commonly associate this phrase with self-absorption and self-centeredness. If someone is labeled as a navel-gazer they are considered to be guilty of being consumed with their own thoughts, preferences, desires, and concerns without any regard for others. Oddly enough, the original meaning of this phrase had the exact opposite idea in mind.
The ancient Greeks practiced the art of navel-gazing, which they called omphaloskepsis. And no, I did not just bang my hands on the keyboard to produce that word. It is an actual term in Greek that literally means navel examination. But it wasn't about entertaining thoughts of one's self. On the contrary, the practice of navel-gazing was a way to contemplate and reflect upon the divine. 
In his book Curiosities of Medical Experience, the 19th century British army surgeon John G. Millingen described the Greek practice of navel-gazing in this way. He said the Greeks "…fancied that they experienced celestial joys when gazing on their umbilical region, in converse with the deity." It was believed that concentrated reflection on the navel would induce deep communion with the divine. Building upon this strange ancient practice, Kelly Kapic has this to say in his outstanding book You're Only Human.
"The belly button" Kapic suggests, "has a profound theological importance. It is our body's way of reminding us that we are not self-made people. We are not separate islands. We are not merely rugged individuals. Instead we are inevitably and necessarily bound together with others. It has been so from the beginning and will always be. Each of us is someone's child whether we know their names or not. All of us owe our existence not simply to God but to other human creatures."
If we just pause to consider this for a moment it actually makes a great deal of sense. What is our belly button? It is evidence of the fact that our lives are derivative. It is the anatomical reminder that our very existence is wholly tied to and predicated upon the existence of another. And that person's existence is predicated upon the existence of another, and so on. This pattern of life should then naturally lead us to wonder and explore the source and beginning of all life, namely God.
When we properly practice the discipline of navel-gazing, it should forge within us a godly gratitude that recognizes all that we are, all that we have, and all that we do is given to us from God. Or to put it conversely, it should form a holy humility that admits there is no such thing as a purely self-made person. There are two places in Saint Paul's first letter to the Corinthian church that captures these truths perfectly. 
1 Corinthians 15:10
But by the grace of God I am what I am, and his grace toward me was not in vain. On the contrary, I worked harder than any of them, though it was not I, but the grace of God that is with me. 
Notice that Paul is not denying his agency and responsibility to work and fulfill his calling. However, he does so with a keen awareness that every ability, skill, and resource he possesses is ultimately traced back to the provisional hand of God. Similarly, he declares these words in chapter 4 regarding our need to refrain from arrogance and boasting.
1 Corinthians 4:7
For who sees anything different in you? What do you have that you did not receive? If then you received it, why do you boast as if you did not receive it? 
These words from Paul express a similar sentiment that is often repeated in the book of Deuteronomy by God to His covenant people.
Deuteronomy 8:17–18
Beware lest you say in your heart, 'My power and the might of my hand have gotten me this wealth.' You shall remember the LORD your God, for it is he who gives you power to get wealth, that he may confirm his covenant that he swore to your fathers, as it is this day. 
This is a timely word for us because we live in and contribute to a culture that celebrates things like independence, individualism, and ambition. Those aren't inherently poisonous things, but when they become paramount values they can end up eclipsing God's gracious provision in our lives. When this happens it can lead us to conclude it is our power and the might of our hands that have produced all of our successes.
Referring back to the work of Kapic, he not only warns us of this, but also shows us how futile it is to fully know ourselves and seek the good life with such an independent and individualistic mindset.
"Any attempt to live as my own center shows that I need others to understand myself and I need them even more to be a healthy and thriving human creature. This is how God made us. Because we have our being in relation and not apart from it, knowing one's self rightly can only occur in the context of being known, of being in relationships, of being loved. The self alone, the isolated ego, is a contradiction in terms. Pursuing that contradiction leads not to life giving knowledge but to suffocating loneliness and unending self doubt." 
When we slow down enough to consider the sermon that God is preaching to us through our belly buttons (which is admittedly the strangest sentence I have ever written) it should cause us to see and savor the beauty of His design for our lives. Not just in the way we are deeply connected to God, but also to one another. 
Again, Kapic has a helpful word for us on this matter.
"Once we start to ponder it, we realize that our whole lives, from our food to our shelter, from our health to our incomes, all of it involves the interdependence of human beings. Why? Because we are finite creatures. And the gift of these relationships with God, others, and even the earth is meant to provide the matrix for self understanding, giving our lives meaning and purpose no matter what our socioeconomic status. Ironically only when I stop thinking of myself as chiefly an isolated center of consciousness and begin to consider my identity in terms of my relationships to others can I start to see clearly who I am."
We live in an age where the false narrative of the self-made person is the heroic tale we want our lives to tell, and where the vain value of independent individualism is contributing to our increasingly lonely world. God wants to free us from these destructive ways of thinking and living by directing our hearts toward Him who is the giver of every good gift. 
Do you want to see the hand of God at work in your life? Start by looking at your belly button.