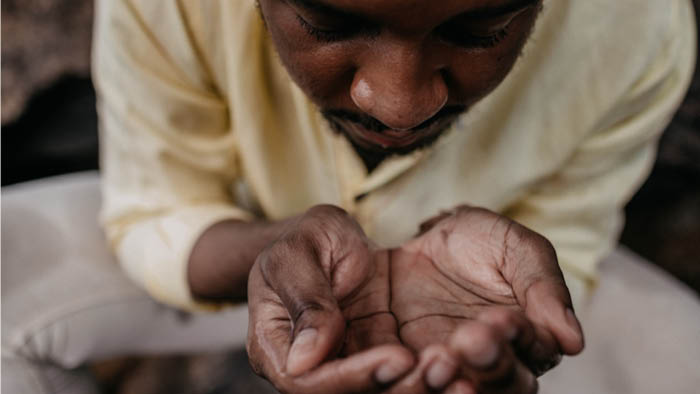 It was early in the afternoon, my body was tired, and I was feeling dizzy. My body was desperate to recover all the water and electrolytes it lost during the morning hike through the Amazon jungle. I had been invited on this mission trip to Colombia, and our assignment was to offer personal prayer and encouragement to the ministry staff stationed at the base in Leticia, a city in the southern tip of the country. While there, we also visited the staff in El Puente, a sister base located in the Amazon jungle. Hiking to El Puente was quite an adventure, but what I remember the most is the heat. The Amazon was hot and humid even by the standards of the Puerto Rican sister writing this blog! On our way back to the boat that would transport us to Leticia via the Amazon River, I could feel my body crashing, desperate for even one drop of water. 
I wonder if that desperate sensation, that frantic desire that makes every cell in one's body scream of thirst and yearn for water, resembles what David's poetry conveys in Psalm 63.
O God, you are my God; earnestly I seek you;
my soul thirsts for you;
My flesh faints for you, as in a dry and weary land where there is no water. 
Psalm 63: 1

David was desperate, not for water, but for God! According to its title, this psalm reflects a moment in David's life when he was in the wilderness of Judah, running from either Saul or his own son Absalom. In the arid desert, where water is hard to come by, David must have experienced extreme physical thirst. He was well acquainted with desperation, and allowed his bodily experience to inform his desire and pursuit of God. Isn't it interesting how our moments of deepest need often point us to the only One who can satisfy it? 
After our hike through the Amazon, another team member brought me a much-coveted bottle of water and a pack of electrolytes. Every cell in my body screamed for joy! But if someone had brought water to David, he would have remained desperate and thirsty because what he wanted (and needed) was not only to quench his physical thirst, but the steadfast love of God, which is "better than life" (Psalm 63:3). As James M. Hamilton, Jr. terms it in his commentary, Psalms, he wanted to be completely "high on God" and wholly satisfied in him. When was the last time we were that desperate? When was the last time we desired God with such intensity and yearning that we sought him earnestly? If the answer to these questions is "never" or "a long time ago," our most urgent question ought to be why, why are we not desperate for God? Why is our spiritual life stale and stagnant? Before we can answer these questions, we must read further down in David's poem.
So I have looked upon you in the sanctuary,
beholding your power and glory.
Psalm 63:2
Gaze on God and drink Beauty
David's intense thirst and desire for God leads him to stare at God. Other translations render the Hebrew as "So I gaze on you…" which better reflects David's intent on fixing his attention on God because he is the only remedy for his thirst. This language is reminiscent of another one of David's psalms, where he communicates his one desire.
One thing have I asked of the LORD,
that will I seek after:
that I may dwell in the house of the LORD
all the days of my life,
to gaze upon the beauty of the LORD
and to inquire in his temple.
Psalm 27:4
In contemporary vernacular, David's Gatorade was to feast on the beauty of God. He gazed upon God in the sanctuary, where his presence dwells, in order to see what God does (his power) and who he is (his glory). No wonder David's immediate response was to worship the object of his gaze! He had no choice. He was contemplating the very source of beauty, the One who is all perfection and excellence. How could he keep quiet? He was drunk with the steadfast love of God, which according to David's bold claim, is better than life. David was in the desert, surrounded by miles and miles of beige and brown shades, but his spiritual, contemplative life was anything but dull. In David's mind, there was nothing better than feasting on the beauty of God. In other words, God's beauty was David's chief preoccupation. 
Now, let us return to our initial question, why are we not desperate for God? Why is it that some of our spiritual lives are stale and stagnant? Perhaps, the reason why reading our Bibles feels like dragging heavy luggage rather than energetic delight is because we have found something to stare at in our screens and electronic devices that is seemingly more beautiful than God. Perhaps, the reason why prayer feels as dull as talking to a telemarketer rather than talking to a dear friend is because we have exchanged the privilege of basking in the beauty of God for the hurried and frantic journey to wealth, to "success," to power, to visibility, to…whatever. 
Certainly there are seasons in our Christian discipleship when our relationship with God feels dry and distant. But there is an important distinction between such seasons and the contemporary, distracted, and beautyless journey some of us are on. Whereas the former is characterized by awareness and a longing for things to change, the latter is marked by ignorant "bliss," distraction, and complacency. The former draws us closer to God, but the latter keeps us at arms length from the One who is Beauty itself. 
In this psalm, I hear both a word of admonition and an invitation. David's desperation for God and our lack thereof confronts us with the reality that many of us have deemed other things better and more beautiful than the steadfast love of God. We are walking around like Christian zombies, numbed by wealth and dulled by constant scrolling up and down the screens, unaware of our dead walking. But, there is good news! Things do not have to be this way. David invites us to get drunk on Beauty by gazing on God, by looking intently upon his awesome deeds and attributes. 
Friends, the compelling and tempting pictures we see in our computer screens, tablets, and phones have nothing on the One who sits on his throne in heaven surrounded by brilliant light, listening to the unceasing worship of the heavenly creatures who cry Holy, holy, holy is the Lord God Almighty, who was and is, and is to come (Revelation 4:8). Michelangelo could never paint anything remotely close to God's beauty, and the cleverest of song writers will always be without sufficient words to describe him. He is like jasper and ruby (Revelation 4:3), wholly other and yet so near to us. Yes! The preacher's pen will never run out of material! Let us hear David's invitation to get drunk on Beauty, for only in him will our deepest longings be satisfied.    
My soul will be satisfied as with fat and rich food,
And my mouth will praise you with joyful lips,
Psalm 63:5
Meditate on God's beauty 
By now you may be thinking, "Ok Nydiaris, I get it. I ought to stare at God." But how does one do that? How does one gaze on one whom we cannot see? David was clear on his method; he meditated on God. 
… when I remember you upon my bed,
And meditate on you in the watches of the night…
Psalm 63:6
Meditating is remembering and dwelling on what God has said in his word. Lean into the beauty displayed on page after page, chew on his words, read it again, think on it, journal about it, put a Post-it note on your desk, tell Siri to read it to you and Alexa to repeat it, and… PRAY God's words back to him. If we make this a habit, we will be held captive by his beauty, completely enthralled by his excellence, alive to him and his work in the world. Let us make the beauty of God and his presence our chief preoccupation, everything else can wait, for his faithful love is better than life.
Let the beauty of God ground you
Gazing at God and saturating ourselves in his beauty fills us with confidence. Note David's assurance in God's deliverance in verses 8-11.
"My soul clings to you;
Your right hand upholds me.
But those who seek to destroy my life
Shall go down into the depths of the earth;
They shall be given over to the power of the sword;
They shall be a portion for jackals.
But the king shall rejoice in God;
All who swear by him shall exult,
For the mouths of liars will be stopped. 
Psalm 63:8-11
Hamilton's commentary notes that David's gazing and meditating filled him with confidence because the contemplation of God's beauty reveals his character and power. He knew that as he fiercely clung to God, the strong arm of the Lord would sustain him. He knew that the God he contemplated was all powerful and kind, zealous for his glory and defender of the lowly. He knew that what God had done for his ancestors in the past, he could do again. Thus, even in the midst of the desert while being hunted down by his enemies, David could confidently declare that "those who seek to destroy my life shall go down to the depths of the earth." His confidence flowed from God's beauty, not arrogant self-reliance; he was grounded in the truth that gazing at God's beauty had planted and rooted in the depths of his soul. 
Unless we make it a priority to be God-gazers and recover a sense of the excellence and goodness of God's love above everything else, we will be like chaff in the wind, without roots that hold us steady in the hurricane force winds of culture and the trials that followers of Jesus will surely face. Grounding ourselves on Beauty protects us from questioning God's care and goodness every time a difficult situation arises. The beauty of God, deeply rooted in our hearts, is a scaffold that protects us from falling apart every time we lose a material possession, watch the market crash, or the car breaks down, because we know that the object of our gaze holds the universe (and us) in the palm of his hand. So, let us drink deeply from the beauty of God, starting with prayer. 
Let us pray…
Lord,
We confess we have been distracted, deceived into thinking that other things are better and more beautiful than you. Forgive us for letting our imaginations be held captive by worldly narratives of "beauty" and success. Resuscitate us with your beauty oh Lord! Breath life back into these dry bones and awaken our souls to your love, for it is better than life itself. Lord, let that truth be tattooed on our hearts and let us be satisfied in your faithful love, so that we are spoiled for lesser things. Stir our spirits, make us desperate with longing for you, move us to read your word with delight and to pray with fervency. Make your beauty our chief preoccupation. Earnestly we seek you! Hear our cries of thirst. Amen.