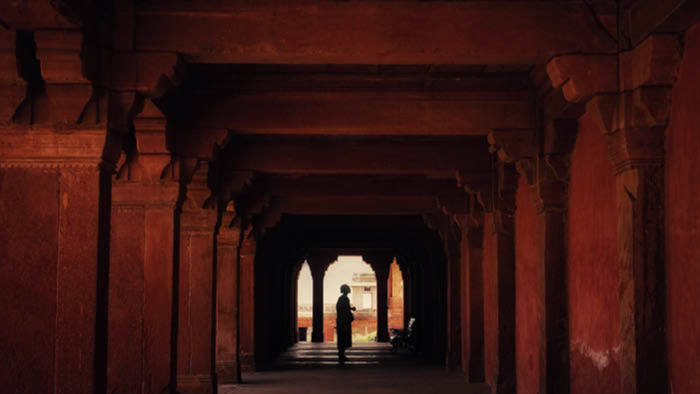 "He who knows one [religion], knows none." – Max Müller 
Last year I had a strange realization…I know way too much about Christianity.
When I say this, I mean that I know way too much about Christianity in comparison to other religions. I have lost count of the books I have read about Christianity, while I can barely think of one written by a non-Christian about another religion. I know the Bible like the back of my hand, but I could barely tell you the basic facts about the Quran or the Bhagavad Gita (I even had to Google how to spell that!).
I grew up in the church, have spent the past eight years of my life studying Christianity in an academically rigorous setting, and now my full-time paid job is to teach others about Christianity. I am blessed to have the opportunity and technology to study the Bible and Christian theology in great depth. As I reflect on this, I am struck by the immense privilege and heavy responsibility it is. If both my personal calling as a disciple of Jesus and my professional calling as a paid pastor compel me to encourage others to choose to follow Jesus instead of other paths, I should at least have a working knowledge of other faiths. So, last fall I set a goal to read eight books about other religions by the end of the year, and I want to share five insights from my reading. 
Why learn about other religions?
You may wonder why a Christian should learn about other religions. Isn't it dangerous to listen to "false teaching"? While we certainly should be discerning about what we read and listen to, I think Max Müller's quote noted at the beginning of this blog is tremendously helpful. Without a working knowledge of other religions, your understanding of Christianity begins to suffer because you don't know what makes it unique. Learning about other religions only bolstered my faith in Jesus and understanding of him. 
As America becomes more religiously pluralistic, it is imperative that believers know how to have conversations with those of different faiths and be able to thoughtfully and respectfully disagree. Here are five lessons I learned as I studied other faiths. 
1. All religions are not the same. 
I believed this before my research journey, however,  the popular assertion that all religions are different paths to the same God reflects a profound ignorance of the various religions and what they teach and practice. Stephen Prothero, author of God Is Not One: The Eight Rival Religions that Run the World, argues that this modern Western view is actually the minority position of the current scholarly field of religious studies. Prothero, a serious scholar teaching at Boston University and by no means a fundamentalist Christian, claims that very few of his academic peers even try to argue that religions are essentially the same. Each religion fundamentally disagrees about the problem facing human existence, presents divergent ways to solve those problems, and differs on what an ideal resolution would look like. For example, in his view, Christianity is unique in that it is essentially a religion of salvation. Human beings are trapped because of sin and are in need of someone (Jesus) to save them from this. 
Prothero thinks the popular pluralistic view is derived from ignorance. The less one knows about various religions, the more likely one is to assume they are all the same. This viewpoint, while starting from a commendable and sincere desire for religious tolerance, ends up not only wrong but also disrespectful. It denies adherents of other religions the dignity of disagreement. If you've ever argued with someone and they refuse to acknowledge you are in disagreement, you know what I mean. It is quite demeaning to tell someone, "No, no! You don't understand. We actually agree," when you are in the middle of an argument.
Moreover, the origin of this sort of religious relativism is Western imperialism. Religious studies, as a secular discipline distinct from theology, began with liberal European academics seeing the religions around the world as different stages of "evolving" into their own moralized versions of Christianity (God is love and we should be nice to one another). Imagine how a sincerely devout Buddhist would respond if told they were really an anonymous Christian! Despite how much we might recoil at bold claims that a person's religion is the true one, every person does have some sense that this is true, otherwise they wouldn't believe what they do. Of course, we should seek tolerance for other faiths and fight for religious freedom, but we should do so by acknowledging diversity and disagreement instead of enforcing sameness. 
2. God as Creator is a uniquely Christian belief.
As a Christian, I have typically glossed over affirming God as the creator of all things in most Christian creeds. It seemed so obvious to me that I rarely reflected on it. If I ever thought about its importance, it was always in reference to countering the idea there is no God and material things are all that exists. God creating the world just proves God exists and that's it. 
However, while studying other religions, I was struck by how unique God as creator is to Christianity. The original Jewish idea that a single God outside of creation created  all that exists from nothing, as something purely good, is a remarkable development among the history of religions. The only major religions that share this view are Judaism, Christianity, and Islam, which also share a common foundation as Abrahamic faiths. Christianity originated as a Jewish sect that believed Jesus is the Messiah, and Islam was deeply influenced by Christianity and Judaism when it began in Arabia in the 7th century AD.
If you look outside these interconnected faith traditions, this idea of God as creator is almost nonexistent. In most polytheistic (multiple gods) religions, each god is only in charge of one thing (the sky, ocean, animals, fertility, etc.). In the Ancient Near East creation myths the biblical authors were aware of, creation is an accidental result of a battle between gods, rather than an intentional act of one God. The ancient Greek creation myth is called "Theogony" which means "the birth of the gods." Their story of how the world was made begins with how the gods were made. They are not understood as having a divine life apart from the elements of nature they represent, like in the Jewish/Christian tradition. They are thought of as the personal embodiment of what they have dominion over. If you were to tell an ancient Greek that you didn't believe in Poseidon the god of the seas, they would laugh and point to the Aegean Sea and say "There's Poseidon." Even other modern world religions (especially Eastern ones) like Hinduism and Buddhism similarly do not have a creator God, nor make a big deal about whether or not that is true. 
This is why throughout the Bible, people regularly say "the Lord, who made the heavens and the earth" when uniquely referring to their God. It might be a throw away line to us, but was actually a very big distinctive for Jews and later the Christians. God creating the world means so much more than just affirming his existence. 
It means that God is fundamentally unlike us since he is the Creator and we are his creation. God doesn't owe human beings anything since he created them and so everything of theirs is rightfully his. Humans can't give anything to God that would determine he owed them something in return. God can't be controlled or manipulated. Everything we receive from him is an act of grace and love. 
This also means that creation is intentional. It is no accident and God has purposes in creating it. The created world was originally good and should be enjoyed as God's gift to us. The evil and suffering we experience are deviations from and distortions of what creation was meant to be. Salvation and redemption are not about escaping this world, but rather seeing its goodness restored. 
3. Comparing Jesus to Mohamed and the Bible to the Quran can be unhelpful.
Despite the similarities between Islam and Christianity as compared to other religions, they diverge in some major ways. Christians and Muslims often misunderstand each other because they compare elements of their religions that are as different as apples and oranges. Martyn Oliver, professor at American University, argues that this can happen if people equate Jesus to Mohamed as religious founders and the Bible to the Quran as holy books when comparing Christianity and Islam. A much better comparison is to see thatJesus and the Quran play a similar role, and the Bible and Mohamed play a similar role in their respective belief systems.
In Islam, the Quran is like an embodiment of God because it is his exact voice. It has always existed for eternity past in the exact Arabic form Muslims have today. Mohamed is just the prophet who bore witness to the Quran that an angel spoke to him, and commanded him to recite it word for word for someone else to write down. This is why a translation of the Quran from Arabic into another language is no longer the Quran. I visited a mosque some years ago, and was surprised that during the 'sermon' the Imam (pastor) would read the Quran in Arabic, then translate, and then explain it. What if I brought my Greek New Testament to the pulpit each Sunday and read from it instead of an English translation? This helps to make sense of how Mulsims understand the Quran. When you try to understand the Quran, you don't ask questions about authorial intent, historical or cultural setting of the original audience, or even how it fits into an overarching Quranic story line. They believe it is a purely divine project that Mohamed memorized word for word and regurgitated, and one should be able to read any part of it on its own, understand, and obey it.
Understanding how the Quran and Mohamed function in Islam as a backdrop to Christianity allows the relationship of Jesus and the Bible to come into a clearer focus.
In Christianity, the true embodiment of the eternal God is a first century Jewish man named Jesus of Nazareth, God in human flesh and the image of the invisible God (John 1:14; Colossians 1:15). This audacious claim that Christianity makes is unparalleled in other religions. Other belief systems that have divine embodiments do not have the concept of a single Creator God distinct from creation, and so their incarnations mean less than the once for all incarnation of God in Jesus. In Christianity, the Bible is a witness to Jesus (John 5:39; Luke 24:25-27), and has authority because Jesus affirmed it (Matthew 5:17-18). The Bible is a divine-human project when God's Spirit inspires and uses human authors, and to understand Scripture one must pay attention to the human elements to understand it correctly. Scriptural authority and its living and active nature extends even to translations of the Bible, as even the New Testament authors were using a Greek translation of the Old Testament as they wrote and taught. This has much to say about the affirmation of human cultural diversity that the God of the Bible has, since believers will retain their linguistic and ethnic identities in the new creation (Revelation 7:9)!
4. The form of Buddhism we often encounter in the West is very Westernized. 
Buddhism as a religious system has always confused me, because so many of its basic tenets and presuppositions are so radically different from the Christianity I have known. It appeared incredibly individualistic with its focus on achieving Nirvana (liberation from the cycle of reincarnation) for oneself after purging all desire and selfhood. This seemed to be at odds with what I understood of the deeply communal culture of East Asian countries. 
It was helpful to learn how diverse and varied Buddhism is as a religion, both throughout history and in its contemporary forms. In particular, much of the Buddhism we experience in the West is deeply influenced by Western interpretations of Buddhism. Henry Steel Olcott, the founder of the Theosophical Society, created the "Buddhist Catechism" while living in Sri Lanka in 1881. Olcott was committed to finding a simple, moralistic and universal religion, like many other Western liberal intellectuals in the 19th century were attempting to do by critiquing traditional Christianity. He used many of the same methods in his distillation of Buddhism into his catechism. This literary work was deeply influential in Buddhist revivals that followed in South Asia, and the belief system and its practices that have been adopted by Westerners. While Buddhism remains a predominantly Eastern religion, its current form, especially as it is practiced by Westerners, remains influenced by intellectual developments in 19th century Europe and North America. 
One aspect of traditional Buddhism that Olcott largely omitted because of its perceived "superstition" was the concept of Bodhisattvas and their role in Buddhist practice. A Bodhisattva is someone who is able to reach Nirvana and so cease to exist, but instead chooses to remain in this world so that they can alleviate the suffering of others and help them also reach Nirvana. They function as a sort of demigod in that they have supernatural powers and have devotees who petition them for help through religious rites. This concept was an early development in Buddhism that enabled Buddhist missionaries to incorporate local deities into the Buddhist world view as they spread their message in new communities. This others-centered, communitarian model contrasts with my initial individualistic take on Buddhism. The ideal is not just to achieve Nirvana for yourself, but rather to selflessly help others reach that state as well.
Even with this better understanding, what strikes me about Buddhism as compared to Christianity is its radically different notion of 'salvation' which turns out to be annihilation rather than redemption. The Bible teaches that we retain our individuality as we are bodily raised to live in the new creation, though in harmony with oneself, others, and God. 
5. The Bible's presentation of women is radically different from its contemporary mythologies. 
One example of this is the Ancient Greek origin myth of "Pandora's Jar" (often mistranslated as 'box') which presents a dramatically different view of gender than the biblical story of Adam and Eve. The myth of Pandora is about Zeus giving man the first woman, Pandora, as a veiled punishment for Prometheus stealing fire from the gods and giving it to men. Pandora came with a jar (meant to evoke womb-like imagery) that contained all kinds of evil and misery. Since Pandora was so curious, she naively opened the jar and brought suffering and evil into the world. So, in the Ancient Greek worldview, women are conceived of as a necessary evil. Men need women to reproduce, but women bring pain and suffering to men. Yikes!
While there is some overlap between this story and Eve's role in the Fall, the differences are stark. Eve is created for Adam because it is not good for man to be alone, not as a punishment! She is a necessary ally to him, and both genders are essential for each other and incomplete on their own. Both Adam and Eve are blamed for sin's entrance into the world, but it is through the woman's offspring that evil is finally defeated (Genesis 3:15). 
God "is not far from each one of us" yet "he commands all people everywhere to repent"
As we learn more about other religions, it is important to use Paul's posture in Acts 17 while speaking to pagan, Greek philosophers as our framework. God, as the creator of all, has not left himself without a witness, and through his common grace and natural revelation of the created world, human beings try to reach out and find God and "he is actually not far from each one of us" (Acts 17:27). Because of this, we shouldn't be surprised if we find truth, beauty, and goodness in other faith traditions, and we should engage them with respect while seeking to understand them better. Moreover, learning about other belief systems can help us become better Christians as we see more clearly what is special about our faith. 
Simultaneously, sin has broken our ability to understand God, and every attempt ultimately ends in idolatry, gods created in our own image (Acts 17:29). God overlooked this ignorance for a time, but since Jesus has inaugurated a new age through his death and resurrection, God "commands all people everywhere to repent" from their idolatry and follow Jesus (Acts 17:30). May we winsomely, graciously, and boldly help others of all backgrounds come to find authentic faith in Jesus!