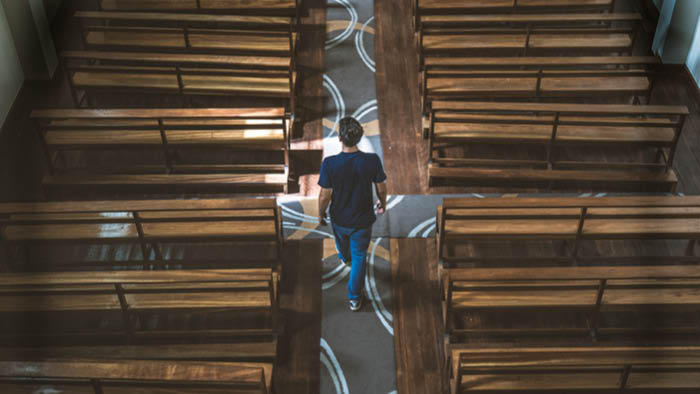 By Colman Murphey

I wasn't raised in a church, but I decided to attend a year ago, and here I am a year later, still attending. I'll try to sum up the reasons for that decision as concisely as I can, because I really could write a thousand-plus words about it.
Back in my college days, I listened to a lot of Jordan Peterson's podcasts (I can maybe feel some eyes roll at this statement). He cracked the defenses I'd built up in my ignorant youth against all that is traditional. Suddenly, I became aware that the stories in the Bible contained powerful truths that pertain to the lives of all people, religious or secular. 
My memory isn't perfect (probably due to the undergraduate alcohol culture) but I think it was after hearing many things that Jordan Peterson had to say that I started to notice a light emanating from the people of faith I encountered in random places. By light, I mean that their behavior resonated positively with me in some way. I did not literally see light around them.
I remember I felt particularly good when a stranger at the financial aid office said "God bless you" as thanks when I directed him to some other administrative office he was trying to find. I remember Anna and Nick, who were fellow counselors at the summer camp where I worked. They did not keep their faith a secret, and it seemed they were working with children for all the right reasons. I remember George, a history major studying at CUNY Hunter College in Manhattan whose coptic faith seemed to animate his passion for history. I felt these people were particularly admirable and I would remember them years later. 
During the pandemic, I moved to Kansas City and I had to start rebuilding my social life. I made a few friends through work, but I was also ready to try new things. Over the years, I had consumed a great deal of media produced by public intellectuals like Jordan Peterson and Glenn Loury. I found myself not as comfortable sharing my thoughts or being myself around the people I usually associated with through school and work. I hate confrontation, and I can be very timid when it comes to sharing contrarian views, so politics and religion were off the table most of the time, even though I was deeply interested in those topics. 
At the time, I was doing an online church with some friends back home, and I remember how those sermons empowered me to face the challenges of my job when other activities didn't. They also provided me with validation for certain beliefs. The thought crossed my mind that maybe going to church in person would be a good idea.
Weirdly enough, I found a link to the Gospel Coalition's website through a math pedagogy page I was exploring for work. 
I typed in my zip code and Christ Community's Downtown Campus was the closest church to pop up. I emailed one of the pastors, who suggested we get coffee. When we met, I was relieved by his understanding demeanor. It made me feel relaxed, and I felt comfortable talking openly around him. He invited me to church on Sunday. 
Upon arrival at my first Sunday service, I was warmly greeted by a stranger my age who introduced me to his friends who were similarly welcoming. This receptive environment and the relationships I began to form kept me coming back. I eventually joined the men's group where I got to meet and converse with guys from all walks of life about topics of masculinity and faith. This environment of a unified group which also contained so many diverse opinions was such a welcome change from others I inhabited in university and at work. Many of the people I met at church were admirable like those other Christians I'd encountered, which didn't feel like a coincidence. Church has felt like an answer for a deep yearning for community and meaning that I sometimes forgot I had. 
While I've found community at church, I wouldn't consider myself Christian in the colloquial sense. I'm not yet willing to concede that the miracles in the New Testament are historical or more than symbolic. After watching many hours of debates about the resurrection of Jesus on YouTube, I came to the conclusion that if I were to someday believe that Jesus really did rise from the dead, my belief wouldn't come from rational arguments. Maybe rational arguments would play some role, but the belief would mostly come from something more akin to a feeling powerful enough to fend off the disbelief. 
That isn't to say that scholarship on the historicity of the gospels hasn't altered my views. It was interesting to learn from the Wikipedia page on the historicity of the gospels that John's baptism of Jesus, and Jesus' crucifixion at Calvary, are held to be historical facts. John's baptism is supported by something called the criterion of embarrassment which essentially just says early Christians wouldn't have made up that story since it might have been used to argue that John was in authority above Jesus. The writings of first century Jewish historian, Flavius Josephus make reference to Jesus's crucifixion at Calvary and therefore serve as strong evidence for the historicity of that event. Now that I've seen how some aspects of the gospels stand on historically solid ground, I am more open to the possibility that the gospels as a whole may be historically true. 
I also have yet to satisfy many questions before I'm willing to take next steps with Christ. There are other spiritual practices outside of Christianity that seem to produce positive changes in people. How is Christianity reconciled with cognitive behavioral therapy, Buddhist meditations, or reports of positive changes in behavior from therapy involving psychedelic drugs? What about the positive effects that MDMA therapy has reportedly had on people experiencing PTSD? How is Christianity reconciled with the findings of research where cancer patients had their death anxiety alleviated by doses of psilocybin? I want to understand how Christianity can incorporate these findings, and I feel confident there's a way. I still have a lot of exploring to do, and, in the meantime, I'll keep attending church.