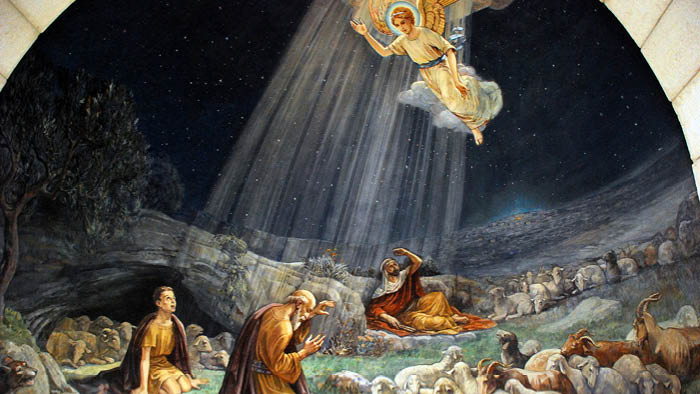 According to the original Brandes family (my family of origin: my dad David, mom Janice, and sister Annie), The Best Christmas Pageant Ever is, hands down, the best Christmas story ever.
A short novella written by Barbara Robinson in 1971, The Best Christmas Pageant Ever casts the six Herdman siblings as the extremely unlikely heroes of their local church's annual Christmas pageant. Rough and tumble with a difficult home life, the Herdman children only darken the door of the church because they hear false rumors of an exorbitant snack situation in Sunday School. 
The snacks don't materialize, but the Herdman siblings fill every material part in the pageant. From there chaos and hilarity ensue. But as the Herdman children come to understand the fresh wonder of Christmas for the first time, humility and joy also ensue. Deep, abundant joy. 
One of the climatic moments in the book comes in the midst of the actual performance of the Christmas pageant. Designed to be an opportunity for the church to quietly contemplate the wonder of Christmas, the only character with a speaking part is the Angel of the Lord, who announces the birth of Jesus to the shepherds. Gladys Herdman, the youngest and most unruly sibling steps to the front of the stage to fulfill that role. And, at the top of her lungs, shouts at the audience:

"Hey! Unto YOU a child is born!"
Departing after the pageant, one previously cantankerous church member comments to another, "It was so nice to actually be able to hear the Angel of the Lord this year!"
To which I say, amen! The message of the Angel of the Lord from Luke 2 should be SHOUTED from the rooftops:
[The shepherds] were terrified, but the angel reassured them. "Don't be afraid!" he said. "I bring you good news that will bring great joy to all people. The Savior—yes, the Messiah, the Lord—has been born today in Bethlehem, the city of David! And you will recognize him by this sign: You will find a baby wrapped snugly in strips of cloth, lying in a manger."
Suddenly, the angel was joined by a vast host of others—the armies of heaven—praising God and saying,
 "Glory to God in highest heaven,
    and peace on earth to those with whom God is pleased."
Two hundred years before Barbara Robinson drew upon this passage for The Best Christmas Pageant ever, Charles Wesley, the prolific hymn writer, brother of John Wesley, and one of the co-founders of Methodism, also found inspiration in the same passage for what he originally called "Hymn for Christmas Day." 
A couple decades later in 1758, Wesley's original was given an update by another founder of Methodism, George Whitfield, eventually resulting in the version we know and sing today, "Hark! The Herald Angels Sing." The first verse displays clear allusions to Luke 2:9-14 (and to The Best Christmas Pageant Ever):

Hark! The herald angels sing
"Glory to the newborn king;
Peace on earth and mercy mild,
God and sinners reconciled"
Joyful all ye nations rise,
Join the triumph of the skies
With the angelic host proclaim
"Christ is born in Bethlehem"
Hark! The herald-angels sing
"Glory to the new-born king"
"Hark" is an old English word that means listen. It is an entreaty and invitation to stop all other affairs and pay attention to what comes next. Or, in Gladys Herdman's shorter, gruffer version, "Hey!"
And what comes next IS a big deal. What comes next WILL bring "good news of great joy." The long-awaited Savior Messiah has been born! The final verse of "Hark! The Herald Angels SIng" teases out the enormous implications of this good news proclamation, revealing why it is that the Herdmans experienced so much joy upon learning the truth of Christmas for the first time:

Mild He lays His glory by
Born that man no more may die
Born to raise the sons of earth
Born to give them second birth
This Christmas season, it is my hope and prayer that you experienced the same joy and wonder that the Herdman siblings did. Because "Hey! Unto YOU a child is born!"