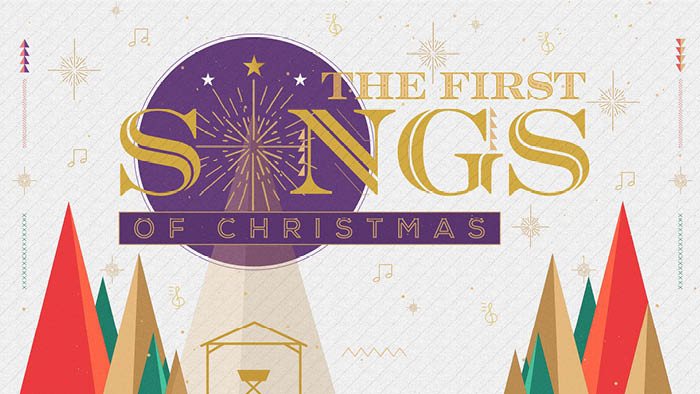 Songs have such power to convey meaning and evoke emotion. Christmas music is no exception.
Whether they cause you to feel jolly or jaded, these seasonal songs of celebration impact us. This year for Advent we are going to experience the wonder and glory of God's entrance into the world as we begin our sermon series The First Songs of Christmas. We are not talking about tunes we hear at the mall. This advent season we will see the story of Christ's birth through the songs that are sung in the opening chapters of Luke's Gospel.
While the Gospels each have their own unique flavor and focus, there is something about Luke's Gospel that just captivates me. Specifically, I love how it's written in what one might refer to as an investigative journalism style. Luke, who himself was both a physician and historian begins his Gospel with these words:
Luke 1:1–4
Inasmuch as many have undertaken to compile a narrative of the things that have been accomplished among us, just as those who from the beginning were eyewitnesses and ministers of the word have delivered them to us, it seemed good to me also, having followed all things closely for some time past, to write an orderly account for you, most excellent Theophilus, that you may have certainty concerning the things you have been taught.
Don't you get the overwhelming sense that what you are reading is not some religious folklore but rather a historical account of things that happened in real time and space? The Christian Standard Bible translation of the verse says "I have carefully investigated everything." The story of Christmas and the fuller story of Jesus is not mythological nor fanciful. It is historical. Luke is giving us a true account of the first Christmas and beyond.
Pastor and theologian Thabiti Anyabwalie pens these words about the style and nature of Luke's Gospel:
"In the gospels we have eyewitness evidence admissible in a court of law. In fact, some scholars believe that Luke and Acts are companion volumes written as a legal brief in defense of the Apostle Paul." -Thabiti Anyabwalie
Jesus was not born into a historical vacuum. The Lord of history entered into human history in real time and space. He entered into our time at the right time appointed by God. And Luke beautifully lays out the facts for us in his carefully researched account of Jesus so that his readers, including you and me, "may have certainty" about who Jesus is.
As we enter into our Advent sermon series together we are going to encounter the fruit of Luke's research and investigative work as he introduces us to a cast of historical characters, each of whom reveal something significant about Jesus in the songs they sing and declare.
More than that, we will discover the glorious truth that Jesus is the song our hearts long to sing.
If you are looking for helpful resources for Advent, check out the list below. There are some designed for individuals as well as families. May they be a blessing to you this Christmas!
ADVENT RESOURCES:
Adults
Come, Let Us Adore Him by Paul Tripp
God is in the Manger by Dietrich Bonhoeffer
Unwrapping the Names of Jesus by Asheritah Ciuciu
Hidden Christmas by Tim Keller
Kids
Jesus Storybook Bible Advent Guide
The Littlest Watchmen by Scott James
The Christmas Promise by Alison Mitchell
The Shepherd on the Search by Josh Helms