At Christ Community we treasure the Bible—it is one of our five church values. Starting on Sunday, August 13, 2023 we will adopt the Christian Standard Bible (the CSB) as our primary Bible translation, in place of the ESV (English Standard Version).
Over the years, we have recognized and celebrated the abundance of exceptional Bible translations available in English. We have encouraged our congregation to engage with any number of these translations for personal reading and study.
We have also always had a primary translation, a specific translation that serves as our primary source for preaching, teaching, and writing. Our decision to update the primary translation is not driven by trends or fads. In fact, in the over 30-year history of Christ Community, we have only made a few updates to our primary translation. This will mark the third change in 34 years. 
Our commitment to the highest view of Scripture as the inerrant, inspired word of God guides us in this process. When Christ Community launched in 1989, the New American Standard Bible (NASB) was our primary translation. Then in the early 2000s when the English Standard Version (ESV) was first published, we updated our primary translation to the ESV. Now two decades later, we are adopting the Christian Standard Bible, first published in 2017, as our new primary translation. 
Why update our primary translation?
As language evolves and new and improved translations become available, it is essential for us to assess the landscape and consider whether there might be a translation that is not only accurate in its scholarship and handling of the original languages, but also more readable and reflective of contemporary English style.
While the ESV has served us well with its excellent scholarship and accuracy, we asked ourselves if there might now be another translation that could provide a high level of accuracy while also offering a more contemporary English style. After careful consideration, we believe the CSB accomplishes just that.
Why the CSB?
All translations exist on a spectrum from formal to functional. Translations on the more formal (sometimes called "word for word") end of the spectrum focus on the meaning of individual words and seek to preserve the word order of the original as much as possible. Translations on the more functional (sometimes called 'thought-for-thought") end of the spectrum focus more on the meaning of the phrase, sentence, or thought that is communicated by the individual words, and then render that phrase, sentence, or thought as clearly as possible in the target language.
Here's a chart that shows where various translations fall on the spectrum.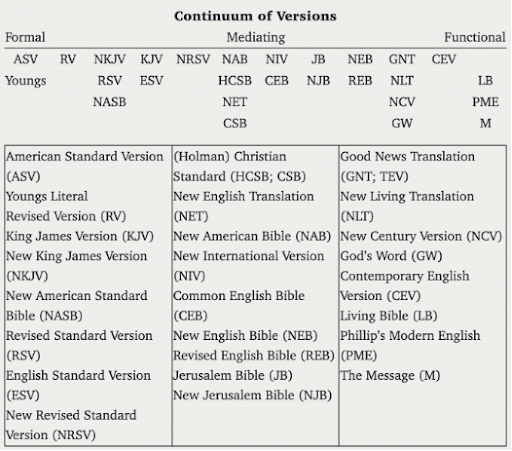 (Source)
The translators of the CSB have taken a mediating approach between formal and functional which they call "optimal equivalence." Here's how they describe their approach: 
The CSB uses optimal equivalence as its translation philosophy. In the many places throughout the Bible where a word-for-word rendering is understandable, a literal translation is used. When a word-for-word rendering might obscure the meaning for a modern audience, a more dynamic translation is used. The Christian Standard Bible places equal value on fidelity to the original and readability for a modern audience, resulting in a translation that achieves both goals (from CSB Introduction).
New Testament scholar Mark Strauss who reviewed the CSB for the theological journal Themelios lauds this "optimal equivalence" approach. He writes: "This mediating approach helps to maintain readability and clarity without sacrificing important formal features, such as metaphors and word-plays."
Let's take Amos 4:6 as an example. The metaphor "cleanness of teeth" in Hebrew indicates a lack of food—not dental hygiene. One's teeth are "clean" because there isn't any food to eat. Here's how different translations approach this verse:

As part of their "optimal equivalence" philosophy, the translators of the CSB have taken what they call a "gender accurate" approach They write: 
Recognizing modern usage of English, the CSB regularly translates the plural of the Greek word ἄνθρωπος ("man") as "people" instead of "men," and occasionally the singular as "one," "someone," or "everyone," when the supporting pronouns in the original languages validate such a translation. While the CSB avoids using "he" or "him" unnecessarily, the translation does not restructure sentences to avoid them when they are in the text.
This example in Romans 8:12-14 highlights how these different versions translate adelphoi (which can mean simply brothers or brothers and sisters depending on the context) and huios ("son"). 

The ESV translation "under translates" adelphoi as "brothers" only. The CSB and NET recognize that Paul is writing to a congregation of men and women and therefore accurately translate adelphoi as "brothers and sisters." However, they both retain the "sons of God" because of the theological significance of sonship.
The NASB20 also recognizes that Paul is writing to a congregation of men and women and therefore accurately translates adelphoi as "brothers and sisters." However, it takes a mediating approach to huios. It retains "sons" but adds "daughters" in italics. The italics indicate that this word is not found in the original language but is added for clarity of meaning.
The NIV11 also recognizes that Paul is writing to a congregation of men and women and therefore accurately translates adelphoi as "brothers and sisters." However, it makes the more gender-inclusive (in contrast to a gender-accurate) move of translating huios as "children of God" making the "sonship" concept more opaque. 

Reading level and reading aloud
Another important factor in Bible translation is reading level. The CSB is designed to be readable for grade 7 and above (ages 12 and older) making it more accessible to our children and students as well as those in our church family for whom English is a second language. 
Additionally, in our conversation on TheFormed.Life Podcast with Dr. Coover-Cox, who serves on the CSB translation oversight committee, she noted that CSB translators also paid particular attention to the sound of the translation when read aloud. They wanted to produce a translation that was not only beautiful to the eye but to the ear as well. 
How did we approach the process of updating our primary translation?
In the fall of 2022, the senior pastor and campus pastors tasked me with conducting an in-depth study of available translation options, thoroughly examining their strengths and weaknesses.
I then presented my findings to them for initial evaluation. After gathering their input and feedback, the Elder Leadership Team reviewed the information. In April 2023, the elders voted to move forward with the CSB as our new primary translation. 
We firmly believe that the CSB is an outstanding translation choice for Christ Community. While no translation is perfect, the CSB manages to bring together the best of both translation approaches—word-for-word and thought-for-thought—into one translation that is not only ideal for study but also a delight to read.
If you'd like to learn more about the CSB check out these resources.
Upcoming TheFormed.Life Podcast episode with Dr. Coover-Cox