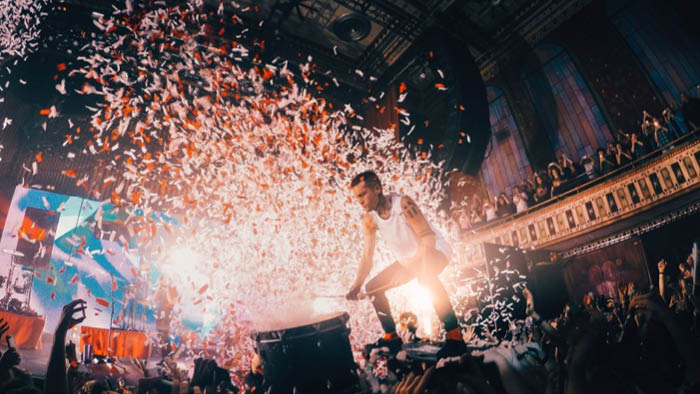 At the end of each concert, the two frontmen of the musical group Twenty One Pilots stand together on the stage, put their arms around each other, and smile at their fans as the cheers rise. Throughout the crowd, people lift signs with "Thank You" written on them. After a while the lead singer lifts the mic and gives them his parting words: "We're Twenty One Pilots, and so are you." As the duo walks off, the crowd continues shouting out their thanks for their music, performance, and, for many, their witness.
Yes, witness. Witness to what? What are the crowds gathering at these shows so grateful for? 
I believe the reason the fans of Twenty One Pilots are so profoundly impacted by their music is because through it, whether we realize it or not, we are getting a glimpse of, even becoming participants in, the good news of Jesus Christ. 
The Art of Our Everyday Work
I need only one song to show you an example of how this duo embeds the gospel into their artwork. They become a witness and a guide for us as we embed the gospel into our "artwork," that is, the art of our everyday work.
"Trees" is the song Twenty One Pilots always performs to end their shows. Its basic flow traces the dialogue between God and a man who is hiding in the trees, silent and afraid in the face of his impending death. And yet God comes after him, initiating a conversation and showing his heart's desire to be with him. 
Clearly, this recalls the aftermath of human rebellion against God in the Garden of Eden, giving voice to the interchange of Genesis 3:8-9. Adam and Eve stood naked and afraid, hiding from God amidst the trees, and yet he came after them. He called them out of hiding and invited them to be known, even in their sin. 
What the song does next is repeat this scenario by repeating the same set of three verses, but building to a much bigger finish. This gives the sense that the same dialogue between God and a man happens again, but with a different outcome. 
And indeed, this is what the good news proclaims! Jesus takes on our shame and faces his impending death, fearful and exposed before his Father as he sweats blood amidst the trees in the garden of Gethsemane, pleading for the cup of the cross to pass from him (Luke 22:42). But this man, the last Adam, remains obedient to the end (1 Corinthians 15:45, Philippians 2:8). He gives himself up to make our death his own, crying out while he stands nailed upright on one tree amidst others, "My God, my God, why have you forsaken me?" (Matthew 27:46). This is echoed in the lyrics from "Trees": "Why won't you speak, where I happen to be?… Silent in the trees, standing cowardly." 
God's Heart Cry
Then, the climactic refrain at the end of the song invites a response: "I want to know you, I want to see, I want to say, Hello." This is God's heart cry. God came in the flesh to be with us, which is what he has been after since the beginning. He's always initiating, starting a conversation with us. Not from afar, but here, where we are, in the midst of our sin and shame and death, even taking it all upon himself. Then he rose from the grave to new life and Mary saw him standing amidst the trees, mistaking him for the gardener, and he called out to her (John 20:15-16). The cross and the resurrection are God's song of invitation to know a love stronger than death. 
So when a slight, dark-haired man stands in front of a stadium full of thousands at the end of a show, he sings out the refrain of that invitation: "Hello." He repeats it throughout the song, bending over his microphone while his friend sits behind him hammering away at his drum set. Then the hellos stop, and after another chorus and some intervening "la la las," the beat stops. A synth interlude rolls over the crowd. They're anticipating. Waiting. They know what's coming. As the two men make their way down from the stage, the security workers in the front lift two large tom drums on either side of the audience from the orchestra pit. A small platform comes next, one beside each of them. Then the spectators become participants. Drumsticks in hand, the two men climb onto the platforms, held up by the people who have spent the last 2 hours singing their guts out along with them. And then it comes.
Confetti drops like a snowstorm from the ceiling as the two men pound their drums in unison. In between beats (buh buh – pause – buda buh buh buh – pause) they point their sticks out to their "Skeleton Clique" (their fan club). And the clique responds, as if coming to life. The crowd shouts a resounding "Hey!" each time, responding to the invitation sung from the stage just moments before. When the music stops, the duo gets back on the stage and says goodbye.
An Invitation to Participate
This is how Twenty One Pilots ends their show, every time. If you're curious, you can WATCH a recording. They have designed their music and performances with an invitation for fan participation. If my interpretation is right, they have written their music to be sung out so that the singers become participants in the gospel narrative hidden in its folds. This is what Twenty One Pilots has made with their artwork. They've not written "Christian music," but music that nonetheless points to Christ in story-form. 
What about the artwork of our own lives? Have we received the message that we have to make "Christian art" or do "Christian work" to be impactful in God's Kingdom? With the apostle Paul I say, "By no means!" (Romans 7:13). 
In your home or at work, with your spreadsheets, with your meetings, with your budgets, with your coworkers, with your friendships, with your relationships, with your sexuality, with your (dare I say it) politics, with your grief, with your depression, with your trauma, with every particularity that makes up your particular story…what would it look like to embed the gospel story into your own story? Every single facet of our story can become a witness and invitation for others to participate in God's Story. 
But we have to know our story to do this. And the best way, indeed the only way to fully know ourselves is to know the God who knows us. We have to let God in, and respond to his invitation. We need to yell "Hey" when he sings "Hello." The deep desire of his heart is for us to know him even as we have been fully known (1 Corinthians 13:12). 
Reflect on Your Own Story
So reflect on your own story. Write it, draw it, yell it, sing it, dance it, however the Spirit leads. Then invite others to listen to your story. Allow yourself to be known before God as two or three gather around to bear witness to the work of God in your life (Matthew 18:20). In doing so you offer up your story as a prayer, giving voice to the silent dialogues between your heart and God's, thus training the ears of your heart to recognize your Shepherd's voice (John 10:3).  
If you're convinced, come with me and follow the path that Twenty One Pilots have laid, to imitate their artwork as they seem to be imitating Christ's (1 Corinthians 11:1). Jesus himself told stories and lived a life that perplexed most, but for those who have ears to hear, he has spoken and lived the very words of life (Mark 4:9-13, Luke 8:8-10, John 6:60-69). Let's participate in his life, and through our lives invite others to do the same.