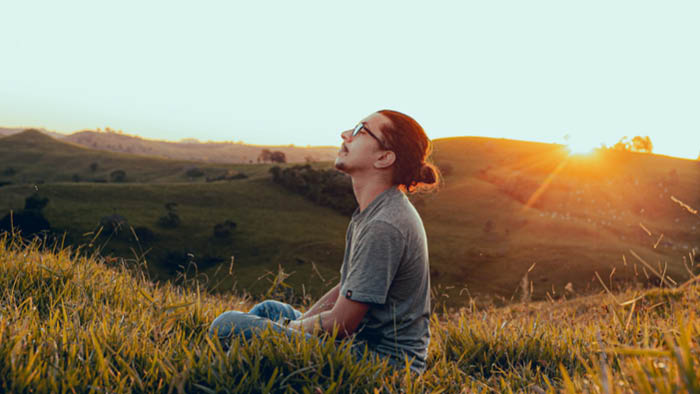 I've been feeling it again lately, the tightening in my chest, the tension that gathers there. It's how my body lets me know that I need to slow down and pay attention. It's my warning light. All is not as it should be. This is my sign that worry and anxiety are on the rise. This is my signal to get back to basics, do the things that I know are healthy for me; mind, body, and soul. So I make sure I am getting enough sleep, exercising and eating well, spending time outside and with friends and family. I make sure I am spending intentional time in prayer, I dig into the Psalms, and I return to my go-to Scriptures for times like these. I want to be clear that I am not talking about clinical anxiety; we live in a broken and fallen world and our bodies don't always work the way that God designed them to. Medication is important and needed for many people to manage their anxiety, I understand that. Here I am speaking about average low-level anxiety. 
So I found myself reciting Philippians 4:6 again last week. "Do not be anxious about anything…" and for the first time, that word "anything" just brought me to a full stop. Wait, what? "Do not be anxious about anything." Anything. Anything? It feels like there are a lot of things happening in our world today that seem very logical to be anxious about. War, gun violence, so much political division and anger, cancer, poverty…I could go on and on. It seems like this verse should say, "Do not be anxious about most things, but there are some things it's perfectly reasonable to be anxious about." But it says "anything."  And, Paul wrote this while he was in prison. It seems like if anyone should get to fret it would be Paul. I even tried looking up the Greek to see if I could find a loophole. Nope. 
I am a worrier by nature, (an Enneagram 6 if you are into that kind of thing) and this verse has always been a challenge and an encouragement to me. But it just feels especially hard right now. So I sat with the "anything" for a while. Honestly, I am still wrestling with it. But I kept going, and I am so thankful that even though the word "anything" brought me up short, the verse does not stop there. God does not leave us with a seemingly impossible command without help. "Do not be anxious about anything, but in every situation, by prayer and petition, with thanksgiving, present your requests to God." In every situation we are to turn over our anxieties, our fears, our plans to God. Open our hands that are clenched into fists with anxiety and trust that He is good, He is sovereign and He loves us. 
This is not easy. Sometimes the darkness seems so very close. But we are to stop and present our requests to God. And thank Him for who He is and the blessings in our lives. And as we zoom out and read this along with the surrounding verses. "Rejoice in the Lord always. I will say it again, Rejoice (v. 4)" Always rejoice. "Let your gentleness be evident to all (v. 5a)" Be gentle to all. Living a life of rejoicing and gentleness doesn't seem to leave a lot of room for worry and fear. "And the peace of God, which transcends all understanding, will guard your hearts and your minds in Christ Jesus. (v. 7)" 
Sometimes I feel the peace of God and sometimes I do not. Sometimes I cannot seem to really trust that God's good plans and purposes will prevail.
I think the key to all of this, the rejoicing and the thanksgiving and the being anxious about nothing, is verse 5b, "The Lord is near." This could mean either close in proximity to us, or close in time, or Paul could mean both. But the Lord is near. I think the source of a lot of our anxiety is our impoverished view of God, and that definitely rings true for me. And our gracious God doesn't leave us wondering who He is; He tells us over and over in His Word. A few examples…
The Lord passed before him and proclaimed, "The Lord, the Lord, a God merciful and gracious, slow to anger, and abounding in steadfast love and faithfulness, keeping steadfast love for thousands, forgiving iniquity and transgressions and sin, but who will by no means clear the guilty, visiting the iniquity of the fathers on the children and the children's children, to the third and the fourth generation." Exodus 34:6-7
Come to me, all who labor and are heavy laden, and I will give you rest. Take my yoke upon you and learn from me, for I am gentle and lowly in heart, and you will find rest for your souls. For my yoke is easy and my burden is light. Matthew 11:28-30
He determines the number of the stars; he gives to all of them their names. Great is our Lord, and abundant in power; his understanding is beyond measure. Psalm 147:4-5
Yours, O Lord, is the greatness and the power and the glory and the victory and the majesty, for all that is in the heavens and in the earth is yours. Your is the kingdom, O Lord and you are exalted as head above all. 1 Chronicles 29:11
This is just a small sampling that shows us the God who is near. Merciful. Gracious. Slow to anger. Abounding in steadfast love and faithfulness. Forgiving. Just. Gentle. Lowly. Giver of rest. Powerful. Creator. Omniscient. Glorious. Victorious. Exalted. 
He is good. He loves us. He is in control. We don't have to be. 
We can rejoice always. We can be gentle to all. We can even not be anxious about anything. So during this time of heightened anxiety for me, this has become a breath prayer for me. "The Lord is near. Do not be anxious."
The Lord is near.