What is the first image that comes to your mind when you think about prayer? Someone on their knees with their hands clasped together toward heaven? The prophet Daniel praying three times a day with his window open toward Jerusalem in defiance of the government? A monk or a nun in deep contemplation? Or, is it someone falling asleep out of boredom? I get it, some days prayer is rough, particularly in the afternoon after lunch!
But what if I told you that prayer is joy? What if I told you that prayer is movement and breath, a labor of love in the presence of the One who is with us in lament and in dancing, in painful sobs and belly laughs, when the spirit groans and when it soars with delight? Would you believe me? In case you don't, let me share with you the image that comes to my mind when I think of prayer.
When I think of prayer, I remember a former pastor of mine with fondness, particularly the way in which he nurtured his prayer life and intimacy with Jesus. I often saw him pacing back and forth talking to God, and if you happened to find yourself next to him during a long drive, you would hear him murmuring as he talked to God. He woke up early to read the Bible, journal, and pray for an extended period of time before he went to his office at the church. At the elder meetings we prayed for a while before we did anything else. And on Tuesday nights at 6:30 PM you would always find him at the weekly prayer meeting.
I learned much from watching my pastor and other servants of the Lord tend to the presence of God with such diligence and delight. The strength of their faith, their zeal for the Lord, and their desire to be with him was evident. They always wanted more time to pray because they never get enough of Jesus! I am indebted to these saints, intercessors, and prayer laborers for everything they taught me as they shared their prayer lives with me.
What is the "secret sauce"? How do they do it? How is anyone able to cultivate a consistent prayer life and find joy in it? Building a consistent prayer life is not always joyful. It starts with discipline! One minute seems like an eternity when you are trying to concentrate in prayer but the mind keeps wandering. Did I switch off the stove, add detergent to that last load of laundry, will I ever finish that project at work, will God ever bring Prince Charming? Don't fret, keep at it; this is all part of learning to give God our full attention. Over time you will notice that discipline has turned into joy and time begins to fly in the space of prayer. Here are some things I have learned throughout the years that have helped cultivate joy in prayer.
1. Establish rhythms of time and place
Luke 2:37 says, "[…] She did not leave the temple, serving God night and day with fasting and prayers."
That is what the evangelist tells us about Anna, a widowed prophetess, who had spent all her life serving God in prayer. I imagine she fervently interceded for the coming of the Messiah, whom she was now seeing with her very own eyes as a babe being blessed by Simeon. I imagine everyone knew exactly where to find Anna at particular times of the day. If anybody inquired about her around the temple, one of the priests might have said, "You know, this is her regular prayer time, so she will be at her usual spot, follow me. But you better brace yourself to wait a few hours because it's gonna be a while before she is done praying."
You and I need regular rhythms of prayer in order to be consistent. Pick a time of the day when you are most alert and a quiet, peaceful place to pray. Make this an appointment that you cannot break, and always show up. Do not concern yourself with the length of your prayer time, focus on being with Jesus.
2. Devise a strategy
It can be daunting to arrive at our prayer appointment without an agenda. It can feel like staring at a blank page on a computer screen with the cursor flashing, reminding us that we haven't written a single word. In order to avoid that sensation of being stuck without anything to say, make a plan for your prayer time. Here is a basic outline of my prayer times.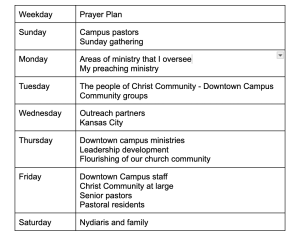 A schedule will help you focus and avoid exclusively self-centered prayers that ignore neighbors and the work of God's kingdom. Note that a schedule serves as a guide and is not written in stone. The Holy Spirit will often change our plans by reminding us of someone's name, or bringing to mind a particular situation. Follow the lead of the Spirit! There is no need to be legalistic about the schedule. This is how we learn to listen to the voice of God as we pray, obedient to the promptings of the Holy Spirit.
3. Bring your Bible to your prayer appointment
1 John 5:14-15 says, "This is the confidence we have before him: If we ask anything according to his will, he hears us. And if we know that he hears whatever we ask, we know that we have what we have asked of him (emphasis mine)."
John tells us that one of the keys to effective prayer is to pray according to the will of God. How do we know the will of God? The will of God is written in the sacred Scriptures. Thus, knowing our Bible is the most productive thing we can do to cultivate joy and effectiveness in prayer. When we pray Scripture, we pray God's very word back to him!
How do we pray Scripture? The epistles are filled with rich prayers. One of my favorites is Ephesians 1:15-19, as Paul prays for a Spirit of wisdom and revelation, for an opening of spiritual eyes, so that the church would understand the nature of the marvelous inheritance they have in Jesus. Ephesians 1:3-14 tells us that such inheritance is nothing less than "every spiritual blessing." In Christ we have been chosen, redeemed, adopted, forgiven, and sealed by the Holy Spirit. Paul was praying that God would grant understanding to his church, so that she could grasp the glorious gospel she had received in Jesus!
In addition, the Psalms are a treasure trove of ancient, liturgical prayers that often feel as relevant today as they have felt throughout the history of the Judeo-Christian tradition. The Psalms give language, voice, and imagery to the whole range of human emotions. In joy and in sorrow, in sickness and in health, in mourning and in dancing, in lament and in praise, we can pray the Psalms. These poems help us say to God the things our heart knows but cannot speak. They communicate that which our souls long for but cannot name.
4. Incorporate a variety of prayer types
Isn't it fun to experience a variety of foods throughout the week? One of my favorite things about going to my mom's house in Puerto Rico is that she cooks all my favorites when I am home. Oh the flavor, oh the variety…what a gift! If you sense your prayer life growing stale and each day it feels like a burden rather than a joy, try a different prayer type. For instance, instead of interceding, try contemplation: spend time worshiping God and thanking him, pick a passage of Scripture, meditate on it, and pray it back to God. I like to employ a variety of prayer practices in one single prayer time. It takes me a while to get to a space of stillness in prayer because I am usually thinking about the many tasks ahead of me so, during the first few minutes of my prayer time I listen to worship music, praise God out loud and thank him. Other times I sing until it turns into prayer. Then, I start interceding. Other times I write in my journal or type in my computer.
Recently, I arrived at one of my prayer appointments during the week and my soul was heavy; all I could do was cry. And when I say cry I mean ugly crying, shaking violently, snot coming out of my nose, deep sobs crying. I think, perhaps, the Holy Spirit was interceding through me with "unspoken groanings" (Romans 8:26). I could not utter a single word. At that moment, I felt compelled to type on my computer, and God was gracious in granting me language to give voice to the things that were in my heart but I could not express. Don't be paralyzed by a long list of prayer requests; incorporate variety in your prayer time and let the Holy Spirit carry you!
5. Be creative
I think one of the reasons prayer sometimes appears boring is that we have a narrow view of what it looks like. There is no need to be inside a room, still, and on our knees when we pray. Stillness in prayer is a posture of the heart, not the body. I routinely pace while I pray. Yes, I look a little crazy, but the movement helps me stay focused when I am tired, and it reminds me that prayer is not a static activity. When we pray, we accomplish the work of God's kingdom and the angels get their marching orders. Prayer is movement! This is why long walks, which are a favorite pastime of mine, are a fantastic time to pray.
Another way to add creativity to your prayers is to write them. I write them in my journal or type them on my computer. Slowing down to write my prayers helps me think carefully about the words I say to God, the theology that is in my heart, and my deepest desires. This practice also allows me to encourage those for whom I intercede with the words God lays on my heart to pray on their behalf.
There are many other ways of engaging the discipline and joy of prayer. I know some people like to draw as they pray and others engage art as a way to cultivate their imagination. Do not let the thought of a bland room paralyze you and rob you of the joy of praying, and growing in depth of intimacy with Jesus.
May you pray earnestly and freely, in mourning and in dancing, in lament and in praise, at home and at work, for you and the world. May the Lord grant you peace as you pray, and may you know the deep joy of keeping company with Jesus in the space of prayer. Amen.