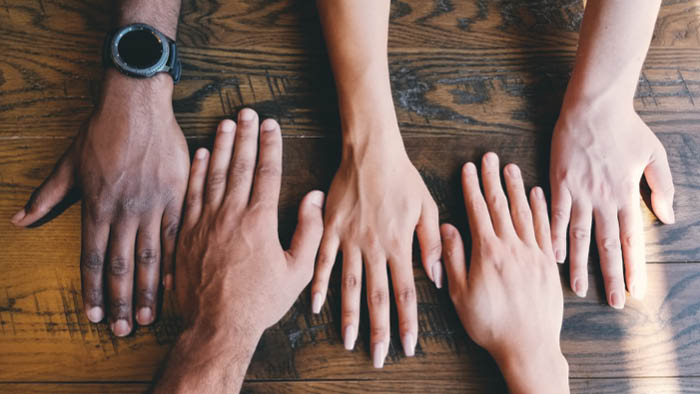 I have been blessed with an incredible family. Even in my extended family, as weird as we sometimes are and with all of our faults, I am so deeply grateful. Yet I know that is not everyone's experience. Some of us come from deeply fractured families or find ourselves in very disappointing or difficult situations, and we have that insatiable craving for more. 
One of the most beautiful things about "the mystery of Christ" referred to in Ephesians, is that because of the gospel we are given a whole new family. God is our Father. Jesus is our Brother. The Holy Spirit is our ever present Comforter. And we even have this with one another! We are surrounded by spiritual mothers and fathers, brothers and sisters, and even sons and daughters. We are given a new family!
But sometimes that family is also really messy. As we walk through a study in Ephesians, we will continue to come upon that phrase "the mystery of Christ." In chapter 3 Paul makes it clear what this is referring to: "This mystery is that the Gentiles are fellow heirs, members of the same body, and partakers of the promise in Christ Jesus through the gospel." (Ephesians 3:6). The Jewish Messiah, Jesus, died for all the nations of the earth to make them a singularly united, at-peace family in him (see Isaiah 2:2-4 and 25:6-9). 
Think about this for a moment. Jesus the Messiah is ethnically a Middle Eastern Jew, but he is not the savior of Jewish people only. He is the savior of the whole world, Gentiles included, and thus all peoples of all ethnic backgrounds who follow Christ are already included in the "one new man" (Ephesians 2:15) by faith in him. This is certainly good news, especially since the vast majority of you who are reading this are Gentile believers in Jesus the Jewish Messiah. In Ephesians 2:11-22 Paul elucidates this "one new man" (or family) component of the gospel message.
This talk of inclusion and different ethnic backgrounds raises some questions in our current cultural climate. How are we to think about ethnic inclusion in the church today? More specifically, what does this mean for this church, here in Kansas City? We hear a lot of talk about "diversity," "inclusion," "racism," "social justice," and the like. At the very least all this talk highlights a need for informed, thoughtful conversation as we seek to love God with all of our heart, mind, soul, and strength, and to love our neighbor as ourselves (Matthew 22:37-39). How do we live into this reality that we are truly family with one another?
There is much that could and should be said about these matters, far beyond the scope of what is possible here. We will circle back to this conversation in a variety of spaces in the future, but for now we encourage engagement with several resources to help us think soberly, widely, and biblically about these topics.
We do not necessarily agree with everything written or said, either in the linked resource itself or by the authors and speakers in their other publications. However, we do believe them to be helpful starting points for further conversation. They are by no means exhaustive, but they will help us begin a deeper interaction with the questions we are already wrestling with. 
However you interact with these resources, the most vital response is to pray. This is the essential first step, and an essential practice to carry through every step thereafter. One significant way to pray in the midst of this conversation is through lament, which is prayer crying out to God on behalf of the injustice we see in the world. 
So let us lament. And let us be led in lament by God himself in his Word spoken through David  in Psalm 55, which is fulfilled in Christ crucified and risen for all peoples to become one in him. Let us pray this lament in solidarity with our sisters and brothers who bear the brunt of injustice in this country and around the world:
Psalm 55
1   Give ear to my prayer, O God,
and hide not yourself from my plea for mercy!
2 Attend to me, and answer me;
I am restless in my complaint and I moan,
3 because of the noise of the enemy,
because of the oppression of the wicked.
For they drop trouble upon me,
and in anger they bear a grudge against me.
4   My heart is in anguish within me;
the terrors of death have fallen upon me.
5 Fear and trembling come upon me,
and horror overwhelms me.
6 And I say, "Oh, that I had wings like a dove!
I would fly away and be at rest;
7 yes, I would wander far away;
I would lodge in the wilderness; 
8 I would hurry to find a shelter
from the raging wind and tempest."
9   Destroy, O Lord, divide their tongues;
for I see violence and strife in the city.
10 Day and night they go around it
on its walls,
and iniquity and trouble are within it;
11 ruin is in its midst;
oppression and fraud
do not depart from its marketplace.
12   For it is not an enemy who taunts me—
then I could bear it;
it is not an adversary who deals insolently with me—
then I could hide from him.
13 But it is you, a man, my equal,
my companion, my familiar friend.
14 We used to take sweet counsel together;
within God's house we walked in the throng.
15 Let death steal over them;
let them go down to Sheol alive;
for evil is in their dwelling place and in their heart.
16   But I call to God,
and the LORD will save me.
17 Evening and morning and at noon
I utter my complaint and moan,
and he hears my voice.
18 He redeems my soul in safety
from the battle that I wage,
for many are arrayed against me.
19 God will give ear and humble them,
he who is enthroned from of old, 
because they do not change
and do not fear God.
20   My companion stretched out his hand against his friends;
he violated his covenant.
21 His speech was smooth as butter,
yet war was in his heart;
his words were softer than oil,
yet they were drawn swords.
22   Cast your burden on the LORD,
and he will sustain you;
he will never permit
the righteous to be moved.
23   But you, O God, will cast them down
into the pit of destruction;
men of blood and treachery
shall not live out half their days.
But I will trust in you.